The African Union has implemented sanctions on Guinea's military rulers, AU Peace and Security Commissioner Ramtane Lamamra said Saturday.
"Africa has implemented sanctions against several dozen people in Guinea who are opposing a return to constitutional order," he said at a press conference on the sidelines of a summit on the Madagascar crisis.
"The list has been sent to AU member states, to the UN Security Council and to the European Union (EU) so that we can harmonize our positions and take appropriate measures," he added.
Lamamra said that "the hand outstreched to Madagascar to help it return to constitutional order coincides with the implementation of sanctions on Guinea: on the same day Africa is expressing its resistance to anticonstitutional changes of government. Democracy must be promoted everywhere".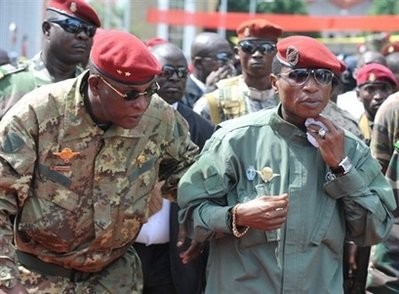 Guinean military ruler Captain Moussa Dadis Camara (R) arrives at a ceremony in Conakry in October, flanked by General Sekouba Konate, minister in charge of national defence
The sanctions include bans on travel and the freezing of assets held outside Guinea by the junta's leaders.
They were imposed after junta troops on September 28 opened fire at a rally in a Conakry stadium where protestors were urging junta leader Captain Moussa Dadis Camara not to stand in presidential elections planned for January.
Camara now wants to stand in the elections, despite his earlier committment not to do so and despite demands from the international community that he should not run.
At least 150 people died, the United Nations says. Human rights groups put the toll at 157 dead and more than 1,200 injured, including women who were publicly raped.
The military regime has said that 56 people died and 934 were wounded. NGOs say that between 150 and 200 people were killed and more than 1,000 wounded.
The United Nations has announced it will set up an inquiry into the massacre while the International Criminal Court said it will hold a separate preliminary inquiry to determine if war crimes were committed.
Both the AU and the west African economic grouping ECOWAS have already suspended Guinea and both the United States and the EU have imposed sanctions on the junta. ECOWAS has also imposed an arms embargo.
Camara seized power in the mineral-rich west African state on December 23 last year, just hours after the death of Guinea's long-serving ruler Lansana Conte, who was an autocratic army general.