ISLAMABAD, March 22, 2009 (AFP) - Pakistan's chief justice Iftikhar Muhammad Chaudhry was reinstated Sunday, cheered on by hundreds of triumphant supporters two years after his surprise ouster threw the nation into chaos.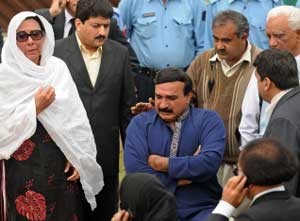 Supporters Nahid Khan (L) and Israr Shah (C) weep as they gather outside the house of Supreme Court chief justice Iftikhar Muhammad Chaudhry in Islamabad on March 22, 2009 (Photo: AFP)
The government's decision to restore Chaudhry, an independent figure in a judiciary long seen as corrupt, has raised hopes of an end to a debilitating crisis that has at times brought the nation to a virtual standstill.
Cheering supporters gathered at his house and sang the national anthem as Pakistan's flag was raised, a symbol of victory after a hard-fought political battle that helped end the military rule of ex-president Pervez Musharraf.
"It marks the end of the active struggle of lawyers and the people of Pakistan," said Aitzaz Ahsan, who led the lawyers campaigning for Chaudhry's reinstatement.
The supreme court said Chaudhry had been restored to office at midnight.
Security forces banned vehicles for a one-kilometre (half-mile) radius and subjected visitors to body searches outside the home of the chief justice, who got right down to work assigning cases in a court system facing a mass backlog.
One of those who helped unfurl the flag was lawyer Israr Shah, who lost both legs in a suicide attack on a July 2007 protest over Chaudhry's initial suspension in March that year, which left 17 people dead.
Chaudhry and 60 other top judges were sacked in November 2007 by Musharraf, who feared the supreme court would disqualify him from running for re-election as president while remaining head of the military.
In a dramatic climbdown, following months of broken promises and bitter protests, Prime Minister Yousuf Raza Gilani announced Monday that the government had decided to reinstate the deposed chief justice.
It was a move aimed at ending a new wave of turmoil after a three-week showdown between opposition leader Nawaz Sharif, who was demanding Chaudhry's reinstatement, and Musharraf's unpopular successor, President Asif Ali Zardari.
Gilani's announcement on television at dawn came after a crackdown failed to thwart opposition activists and lawyers from starting to head toward the capital Islamabad in what was to have been a nationwide "long march."
The pledge appears for the moment to have defused a crisis in the nuclear-armed Muslim nation, a frontline state in the US-led war on terror which is battling Taliban and Al-Qaeda militants.
Millions of Pakistanis have great hopes that Chaudhry's return will cleanse the judiciary of rampant corruption and clear the case backlog.
"I came to celebrate as he is the messiah. He's the only one in the population of 160 million who can provide us justice," said Tahir Mahmoud, a retired soldier who attended the celebrations Sunday.
Chaudhry, who did not attend the ceremony and refuses to make political statements, has a reputation as an upstanding, independent-minded judge -- qualities that experts say will set the tone for a cleaner judiciary.
Sworn in on June 30, 2005, Chaudhry soon blocked a deal to privatise steel mills, which would have earned the government millions of dollars.
He took up the cases of missing people allegedly held by Pakistani security forces or handed over to the United States on terror charges.
And he questioned Musharraf's eligibility to contest the presidential election -- a stand that first cost him his job.
But while experts say his restoration is an important step, they warn he faces huge challenges to end corruption and secure government reforms.
Gilani on Sunday held his first face-to-face talks with Sharif since the supreme court on February 25 disqualified the opposition leader and his brother Shahbaz from contesting elections, sparking the latest political turmoil.
The government has filed appeals to overturn the ruling and Gilani's visit to Sharif's estate is a further move towards reconciliation with the opposition Pakistan Muslim League-N, which walked out of government in August.