Earthquake aftershocks rocked the Italian city of L'Aquila on Tuesday, raining fresh lumps of debris as rescuers pulled out more survivors and the death toll passed 200.
The government rushed to provide shelter for the victims and police began patrolling against looters.
A 98-year-old woman who whiled away the long hours awaiting rescue crocheting was among the lucky few saved on Tuesday, but hopes were dwindling of finding others.
Prime Minister Silvio Berlusconi told a press conference there were 207 dead and that 7,000 police, troops and other emergency services and volunteers were taking part in the hunt for survivors.
But he rejected outside help after Italy's worst earthquake in three decades.
The work of the rescue teams was complicated by the aftershocks, which rattled L'Aquila more than a day after the initial 6.2-magnitude quake that devastated on the historic city and neighbouring villages.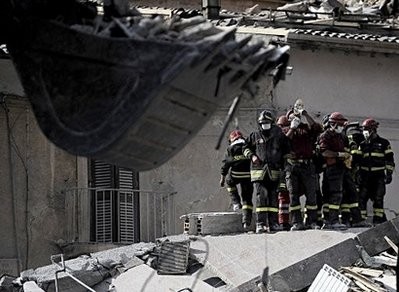 Rescue workers operate on a building in the center of the Abruzzo capital L'Aquila.
The strongest, at about 11:30 am (0930 GMT), measured magnitude 4.7 on the Richter scale, the national geological institute said.
"We're a bit tired, but still very active," said Fabrizio Curcio, director of the Civil Protection emergency bureau, which is coordinating rescue work from a gymnasium on the outskirts of L'Aquila.
"Frankly, fatigue is not a major concern... We're running on adrenalin."
Hundreds of the 1,500 injured were being treated in a field hospital set up inside L'Aquila. Volunteer groups joined professional rescue teams who used sniffer dogs to locate victims and mechanical diggers.
The Vatican joined the rescue effort Tuesday, dispatching eight members of its fire service.
Berlusconi, who has declared a state of emergency in the central Abruzzo region, said the search would go on for another 48 hours, adding that 150 people had so far been pulled alive from collapsed structures.
One of those found on Tuesday was Maria D'Antuono, 98, who was recovered unharmed in L'Aquila some 30 hours after the quake. She told the ANSA news agency that she had kept at her crochet while awaiting rescue.
L'Aquila was a virtual ghost town the day after the quake, with survivors sheltering at a blue tent city and forming long lines to accept food donations.
"I had two friends in there," a man named Bernardo, 52, said as he looked at a damaged building, his expression leaving no doubt about their fate.
Even supposedly quake-safe modern structures crumbled, burying people and property and smashing cars.
Some 17,000 people lost their homes, authorities said. Many people spent the night in cars, as temperatures dropped to near freezing in the area about 100 kilometres (60 miles) northeast of Rome.
Berlusconi said 20 tent camps with 16 field kitchens would be completed Tuesday to accommodate 14,500 people.
"I thank foreign countries for their solidarity, but we ask them not to send us aid," he said. "We can handle the needs on our own. We are a proud people and we have the means."
Interior Minister Robert Maroni said 130 million euros (175 million dollars) in emergency funds had been made available, with more to follow. "We will find all the resources we need for this national emergency," he said.
Public anger was rising, however, with many people in the zone saying quake warning signs had been clear to see in recent weeks.
"It's a scandal what's happened," L'Aquila resident Maria Francesco told AFP. "For the past three months there have been regular tremors, and they've been getting stronger and stronger."
Forty of the dead were in Onna, a village of around 300 inhabitants.
"My husband has been helping the rescue workers and he has been taking away bodies with his bare hands. It is just a nightmare," said one resident who only gave her first name, Silvana.
With so many homes and businesses abandoned, Maroni said 200 police officers have been assigned to patrol against looting. "Unfortunately there were a few cases yesterday, and today we will reinforce the contingent," he added.
Massive destruction was reported for 30 kilometres (20 miles) in all directions from L'Aquila. The nearby villages of Villa Sant'Angelo and Borgo di Castelnuovo were practically wiped out.
The quake lasted about 30 seconds, bringing down many buildings, including the dome on the 16th-century San Bernardino church. The city's cathedral was also among Renaissance and Baroque buildings damaged.
Roofs caved in on sleeping inhabitants and boulders fell off mountain slopes blocking many roads.
Safety concerns led to the cancellation of Easter masses at churches damaged by the quake. Prayers would instead be held in tent villages sheltering survivors, the Roman Catholic Church announced.
Italy is criss-crossed by two fault lines, making it one of Europe's most quake-vulnerable regions, with some 20 million people at risk.