Iran hit out at its longtime nuclear partner Russia Tuesday over a yes vote for a censure motion at the UN atomic watchdog and insisted it was serious about plans for 10 more uranium enrichment plants.
President Mahmoud Ahmadinejad said that despite the support given in the International Atomic Energy Agency vote on Friday by Russia and China, Western governments would not succeed in their efforts to isolate Iran.
In a rare tirade against the government that has been building Iran's first nuclear power plant in the Gulf port of Bushehr and had been expected to deliver advanced air-defence missiles for its facilities, Ahmadinejad said Russia had made a "mistake" in its vote at the IAEA.
"Russia made a mistake. It does not have an accurate analysis of today's world situation," Ahmadinejad said in a televised interview.
He vowed that despite the setback Western powers would not succeed in isolating Iran and dismissed any possibility of military action, a resort never ruled out by Israel or the United States.
"Any finger which is about to pull the trigger will be cut off," Ahmadinejad said.
"They need us more than we need them. It is psychological warfare and isolating Iran is impossible."
He said that despite Friday's censure vote, which was backed by 25 out of 35 voting members of the IAEA to just three against -- Malaysia, Venezuela and Cuba -- Iran was deadly serious about its plans to build 10 additional uranium enrichment plants as a riposte.
The vote called on Iran to stop construction of its second uranium enrichment plant under construction near the central Shiite shrine city of Qom.
"There is no room to bluff in this regard," Ahmadinejad said of the 10 further plants he announced on Sunday to condemnation from Western governments.
"We will follow through on what we say."
Ahmadinejad lashed out at Britain and Israel over the IAEA censure motion but expressed only concern that Washington had failed to deliver on the initial promise of dialogue from the administration of President Barack Obama.
"The agency should not have bowed to pressure by Britain and Zionist regime. Resolutions and sanctions are worthless in our view," he said.
"Obama's behaviour is worrying. We expected him to make changes," the Iranian president added.
"He has especially talked a lot about Iran and we have always welcomed that and sent him messages. If there are opportunities and if he is honest, then we can take a step. But we are worried now that he cannot and the previous story continues."
Ahmadinejad warned that Iran might reduce its cooperation with the UN nuclear watchdog to the bare minimum, having cooperated previously and been punished.
"It is natural that the least we can do is to go down to the legal level and examine limitations (on cooperation). We have so far cooperated beyond the legally required levels."
He even said that a recent nuclear fuel deal being discussed between Iran and world powers was actually an Iranian proposal, and criticised the IAEA, which brokered the talks, for insisting that Iran send out its low-enriched uranium for fear of being used in making a bomb.
"This was nonsense," the hardliner said.
Iran insists that it carried out its obligations under the nuclear Non-Proliferation Treaty in notifying the IAEA of its building work on its second enrichment plant, a position the UN agency does not accept.
Earlier China had insisted that there was still room for diplomacy to allay Western concerns about Iran's nuclear intentions.
Foreign ministry spokesman Qin Gang said: "Sanctions are not the goal of the resolution. We should properly solve this issue through dialogue and negotiation," adding China voted for the IAEA resolution in a bid to spur dialogue.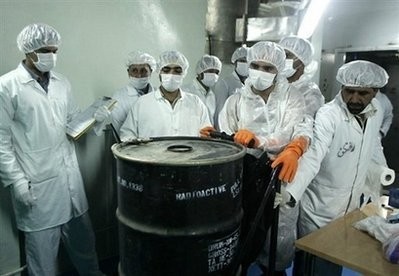 Iranian technicians remove a container of radioactive uranium from the Isfahan nuclear facilities in 2005
But Tehran criticised even Beijing, despite its longtime opposition to a fourth round of UN sanctions.
"There would be no change in strategic relations with these two countries (Russia and China), but we will express our unhappiness to them," foreign ministry spokesman Ramin Mehmanparast told a news conference.
Russia had already rowed back on its opposition to any more sanctions. President Dmitry Medvedev said recently that Iran could face further action if it fails to allay Western concerns about its intentions.
On Tuesday, a Russian diplomat underlined the warning to Iran.
"We need to keep such an option in mind and consider the fact of sanctions," he said.