Iranian President Mahmoud Ahmadinejad left Tehran on Sunday for a five nation tour, including Brazil and Venezuela, both supporters of the Islamic republic's controversial nuclear programme.
Ahmadinejad's five-day trip also covers Bolivia and West African countries Gambia and Senegal, the ISNA news agency reported.
According to the presidency office website, Ahmadinejad will first go to Gambia, and then to Brazil, Bolivia, Venezuela and Senegal.
Since coming to power in 2005, Ahmadinejad has sought to form bonds with leftist south American leaders, and enjoys "brotherly ties" with fiercely anti-US Hugo Chavez, president of Brazil's neighbour, Venezuela.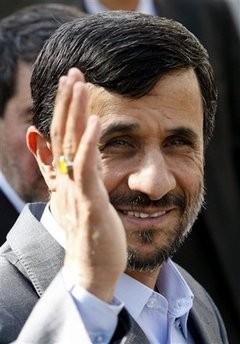 Iranian President Mahmoud Ahmadinejad
The Islamic republic's influence in arch-foe the United States' back yard has unnerved Washington and its key Middle Eastern ally Israel amid speculation Venezuela and Bolivia might be providing uranium to Iran for its controversial nuclear programme.
Brazilian President Luiz Inacio Lula da Silva has backed Iran's nuclear development programme as long as it is peaceful.
In his trip to Bolivia, which sits on South America's second largest gas reserves, Ahmadinejad and his counterpart Evo Morales will hold a private meeting and sign bilateral agreements, La Paz has said.
And in Venezuela, the Iranian hardliner is expected to receive a warm welcome given his good relations with Chavez, as the two leaders are known for their populist economic policies and strong anti-US tirades.
Chavez, who also supports Tehran's nuclear programme, has himself been a regular visitor to Iran since the presidency of Ahmadinejad's predecessor Mohammad Khatami, the reformist president.