Haiti's President Rene Preval Friday praised a massive international relief effort for his stricken country but warned that the aid operation remains uncoordinated.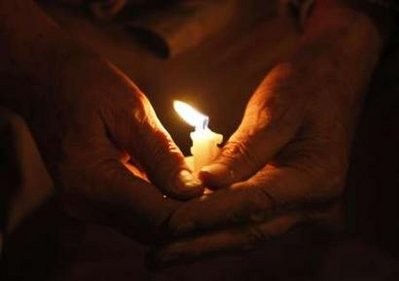 A man holds a candle during a vigil for United Nations workers and other victims of Tuesday's Haiti earthquake, at Dag Hammarskjold Park near the United Nations in New York January 15, 2010.
"We need international aid, but the problem is the coordination," the Haitian president told AFP.
Preval said 74 planes from countries including the United States, France and Venezuela, had arrived at Port-au-Prince's overwhelmed airport in a single day.
"For the government's part, what we can do is to ask of the aid workers to work in committees that we have set up within the government to ensure the most effective distribution of the aid sent by the international community," he said.
Haiti's health ministry said Friday that the massive 7.0 quake that struck the Caribbean nation Tuesday afternoon has killed more than 50,000 people and injured some 250,000.
A preliminary estimate said 1.5 million people had been affected by the quake.
"We need international aid," insisted Preval, who was forced to set up a makeshift seat of government at a police station near Port-au-Prince's small airport after the earthquake destroyed the presidential palace and numerous government ministries.
The Haitian leader said his government has set out certain priorities for helping their devastated countrymen, beginning with the distribution of gas so vehicles can deliver much-needed aid and food throughout Port-au-Prince.