UN chief Ban Ki-moon praised the global community as emergency donations for Pakistan neared 500 million dollars but warned the flood-stricken nation faces "years of need."
Donations have outstripped the 460 million sought by the UN emergency appeal as the global relief effort kicked into gear amid impassioned pleas for help by Pakistan.
The Financial Tracking Service, a UN database that aims to track all donations, showed late Friday that 490.7 million dollars in funding has been collected, with another 325 million dollars pledged.
The United States leads the way following by Saudi Arabia and Britain.
The United Nations on Thursday led a meeting to raise support for Pakistan -- a disaster which the UN's Ban called a "slow-motion tsunami."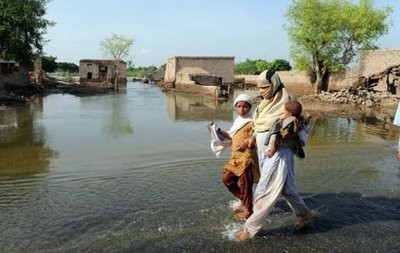 A Pakistani flood survivor wades through water with her childern at Shah Jamal village in Punjab province.
On Friday the UN chief welcomed the donations, saying: "The generosity of countries and individuals will make a real difference in the daily lives of millions of people.
"We must keep it up. Pakistan is facing weeks, months and years of need."
The floods have left nearly 1,500 people dead in the nuclear-armed country of 167 million -- a top US foreign policy priority on the frontline of the US-led war on Al-Qaeda and locked in battles with homegrown Taliban.
Its weak, democratically elected government has faced an outpouring of public fury over sluggish relief efforts and there are growing fears that losses of up to 43 billion dollars could bring economic oblivion.
Pakistani Foreign Minister Shah Mehmood Qureshi, who has been appealing for help in the US, said Friday that it was important to look not only at emergency funding but at long-term needs.
"I would say the initial response was slow because the world was not aware of the magnitude of the challenge. But now I think it is filtering in," Qureshi told the "PBS NewsHour" on US public television.
"But that's only the beginning. We have to look at the recovery and the rehabilitation and reconstruction costs as well," he said.
Eight million flood survivors in desperate need of food, shelter and clean drinking water require humanitarian assistance to survive, as concerns grow over potential cholera, typhoid and hepatitis outbreaks.
Elisabeth Byrs, a spokeswoman for the UN Office for the Coordination of Humanitarian Affairs (OCHA) said UN agencies were ramping up their aid effort but the full picture was only beginning to emerge.
"It's a disaster that came very slowly, it's not an earthquake that hits suddenly that we can immediately see the victims. But we are now seeing the magnitude of this catastrophe."
The UN World Food Programme said it urgently needs helicopters to get food to millions of flood victims who remain cut off by the high waters, although weather forecasters say the monsoon systems are easing off.
The agency warned that the floods have killed or are threatening millions of livestock, and launched an urgent appeal for animal feed.
The Pakistani-American community is asking the US government to step up assistance, calling it a key opportunity to improve the US image in Pakistan.
They asked for President Barack Obama to push ahead with a long-mooted proposal to give preferential access to Pakistani textiles -- a key export hit hard by floods -- and to forgive Pakistan's 1.5 billion dollars in debt to Washington.
"The intentions are great, but more needs to be done," Mahera Rahman, executive director of the Council on Pakistan Relations, told AFP on Friday.
"With anti-Americanism so rampant in Pakistan, it's a great opportunity to show Pakistanis that the US cares for them," she said.