PADANG, Indonesia, Oct 6, 2009 (AFP) - Fresh international aid was on its way to earthquake victims in the Indonesian city of Padang on Tuesday as schools and shops reopened despite the stench of death and shortages of water.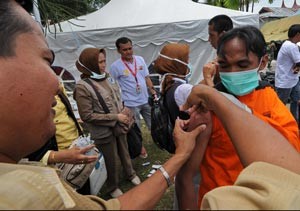 An Indonesian rescue worker gets vaccinated on site in front of Amacang hotel from medical officer in the Sumatran city of Padang on October 6, 2009 (AFP photo)
At the crumpled Ambacang Hotel in the city centre, excavators briefly ceased digging when workers thought they heard a woman's cries for help from beneath the rubble, but a search revealed no further signs of life.
"There's no one alive. I stopped all the machinery to ensure that the family of the victims were satisfied," the commander of the clean-up operation, Haris Sarjana, told AFP.
In the rugged hills to the east and north of the city, hundreds of people remained buried beneath massive landslides that swallowed villages when the 7.6-magnitude quake struck off the coast of western Sumatra last Wednesday.
A Red Cross official said the final death toll would exceed 3,000, although the website of the national Disaster Management Agency put the latest toll at 704, with 295 missing.
Between 170,000-200,000 homes were damaged, with about half this number completely destroyed, said Bob McKerrow, the head of the International Federation of Red Cross and Red Crescent Societies in Indonesia.
Based on an estimate of five people per household, he said up to a million people had been directly affected by damage to their homes.
Helicopters dropped vital supplies to cut-off farming communities which relief workers could not reach by road.
More choppers were on their way aboard US Navy ships in a multimillion-dollar effort to aid victims of the earthquake, State Department spokesman Ian Kelly said in Washington.
He said about 45 metric tonnes (50 tons) of relief commodities from US Agency for International Development stockpiles in Dubai, United Arab Emirates, was due to arrive in Padang around 0300 GMT Tuesday.
"This includes plastic sheeting, hygiene kits, generators and this will all be distributed via the Red Cross," Kelly told reporters.
US Pacific Command has flown two C-17 military transport aircraft to Padang, with material for a field hospital that will treat as many as 400 people a day, Kelly said.
The United States is also dispatching a seven-person mobile field surgical team and two warships with helicopters that will fly to the hardest-hit rural areas.
Australia also has military engineers and medics on the ground, and two C-130 aircraft transporting personnel, equipment and stores between Jakarta and Padang, the Australian embassy said.
UN Humanitarian Coordinator in Indonesia El-Mostafa Benlamlih told AFP Padang's government had been hit as hard as the city's one million residents.
"Our priority today is to help the government administration to better their system... our focus is on education, public works, health and social welfare," he told AFP.
"We'll help the government to start functioning because they're also victims... they've suffered quite a lot."
He said most foreign search and rescue teams were leaving the country as there was almost no hope any more survivors would be found beneath the debris seven days after the quake.
As the aid effort shifted gear, the city began to show signs of recovery.
"Sixty percent of markets have reopened, the schools have all reopened, people have gone back to work and fishermen have gone back to sea," Padang Mayor Fauzi Bahar told AFP.
"We want Padang to be that way. We don't want it to be like a city of the dead; we don't want our people to become beggars."
THe UN children's agency UNICEF said almost 70,000 children, or about 40 percent of the city's students, were back in class Tuesday.
"This is an important sign that life will return to normal for children affected by this tragedy," UNICEF country representative Angela Kearney said.