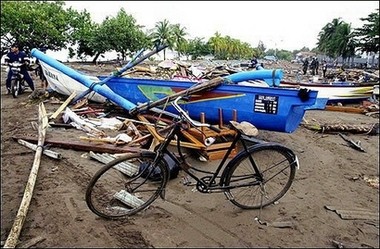 Residents survey the devastation in Pangandaran (AFP Photo)
Aid trickled in Wednesday for survivors of a tsunami that killed nearly 400 people in Indonesia as rescue workers used bare hands to hunt for bodies two days after the disaster.
The three-metre (10-foot) tsunami lashed the densely-populated south coast of Java island on Monday, sparking memories of the 2004 catastrophe that left 220,000 people dead across Asia, most of them in Indonesia's Aceh province.
"We are looking for people who are still missing or buried under the rubble as well as clearing the debris," army officer Deden Rajab, who led a group of 27 soldiers at work here, told AFP.
Dozens of police, troops and civilians combed neighborhoods along the coast to seach for the missing.
At least 396 people were killed by Monday's onslaught, the social affairs ministry said -- 118 in Pangandaran alone -- while 700 people were injured and 187 remained missing. At least six foreigners were believed among the dead.
Aid relief operation began to take shape.
The UN's World Food Programme (WFP) said that two trucks carrying 15 tonnes of noodles and high-energy biscuits had arrived in Pangandaran and begun unloading.
"We're trying to reach around 20,000 people in the next week," spokesman Barry Came told AFP, adding that a team of WFP staff were leaving Wednesday for the area to "figure out exactly what to do."
Relief coordinator Subur Dwiyano told the Detikcom online news agency that the local government had received food and cash aid.
"So far we have received 650 million rupiah (71,000 dollars) in cash. The plan is to distribute the cash to relatives of dead victims," he said. He did not say how much each family would receive.
He said 10 public kitchens had also been set up in Pangandaran.
One truck carrying a tonne of food supplies donated by President Susilo Bambang Yudhoyono's wife arrived in the battered resort area.
Eight trucks filled mostly with mineral water also arrived in the district of Cilacap, where more than 100 lives were lost.
A district official Sugiono said three large military tents and two public kitchens had been set up while four rubber boats were deployed to help in the search for the missing.
"There's still confusion about what to do. The main priority is to save lives," he told AFP.
Source: AFP