Airbus on Monday delivered the first of its A380s, the world's biggest passenger jet, to Singapore Airlines, 18 months behind schedule but with both sides hailing the major advance in air travel.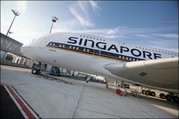 A Singapore Airlines Airbus A380 aircraft is seen at the Toulouse Blagnac airport in southern France
The 73-metre-long (239-feet) superjumbo was handed over in a ceremony at the Airbus headquarters in Toulouse in southern France.
Thomas Enders, chief executive of Airbus, said: "We are obviously extremely proud to deliver the first A380 to Singapore Airlines, but this is the latest milestone in a long journey."
The rollout of the doubledecker plane, which could carry up to 853 passengers, is 18 months behind schedule because of a series of production problems that embarrassed the European firm which is in bitter competition with Boeing Co. of the United States.