Planemaker Airbus celebrated a $72 billion haul of orders, including the biggest single airliner deal in history, in a home turf victory over US rival Boeing at the Paris Air Show on Thursday.
"This success sets a new record for any commercial aircraft manufacturer at any air show ever," Airbus said, after confirming Malaysia's AirAsia would buy 200 of its A320neo medium-haul jets for $18.2 billion (12.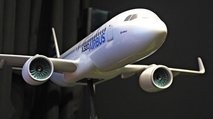 model of Airbus A320 Neo is displayed at the Paris International Air Show in Le Bourget airport
It said this brought Airbus's order book for the week at the Le Bourget aerodrome north of Paris to 730 airliners, including 701 for its new star, the single-aisle A320 in both its original and fuel-efficient "Neo" variant.
At catalogue prices, the orders represent hard sales worth $44 billion (31 billion euros) and memoranda of understanding for the purchase of aircraft worth $28.2 billion.
The AirAsia order makes the Malaysian low-cost pioneer Airbus's biggest customer and is the biggest single airliner sale by numbers in history.
Airbus chief commercial officer John Leahy also said that an unidentified firm had ordered 10 of its A380 super jumbos for $3.75 billion euros.