Airbus has made even bigger savings than expected when it launched cuts in the midst of crisis in 2007 and remains competitive despite the rise of the euro, the company which makes airliners said on Friday.
Senior director Fabrice Bregier told the Les Echos newspaper that "the targets have been well exceeded", and that the so-called Power 8 programme had enabled the company to save "2.5 billion euros ($3.65 billion), which means as much extra profit, and 10 billion euros in cash."
The company expected to employ an extra 3,000 people this year.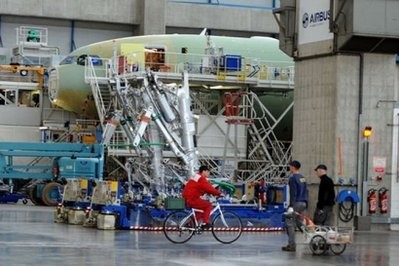 The assembly lines of European military transport plane and the Multi Role Tanker Transport plane are seen at the Airbus production plant in Blagnac.
Airbus, a subsidiary of the European aerospace giant EADS, had intended to save 2.2 billion euros and 5.0 billion euros in cash.
The company was thrown into a severe crisis by delays in the manufacture and delivery of its superjumbo A380 airliner. These delays revealed far deeper problems concerning strains between France and Germany in the boardroom and in the industrial structure of the group.
Bregier said that the Power 8 programme was intended to transform Airbus from being a "constellation of national entities gravitating around a central function" into "an integrated business."
Although the profitability of the group remained weak, with a net margin of about 1.2 percent in 2010, "Power 8 has enabled us to remain competitive, despite a euro which has risen from 1.08 dollars to a euro in 2006 to 1.30-1.40 dollars today."
Whenever the dollar fell by 30 cents against the euro, the cost to the group amounted to about 3.0 billion euros in terms of operating profit.
Of a total of 10,000 jobs due to have been cut under the Power 8 plan, 7,900 had been shed.
Meanwhile, to cope with the launch of the A350 airliner and an increase in the rate of production, the group had hired 2,200 people in 2010, of whom half had been recruited in France, and it planned to take on 3,000 more this year in the fields of engineering, he said.