European aircraft maker Airbus pressed governments on Tuesday to open their wallets to save the troubled A400M military plane project, warning that the company's viability depended on it.
Airbus chief executive Tom Enders warned that the company might be forced to scrap the long-delayed programme if European clients fail to put up more money to cover cost overruns by the end of the month.
"Now it's high time for decision," Enders told reporters in Seville, Spain, adding that the "viability of Airbus as a whole" was at stake.
Airbus has 52,000 employees, with some 10,000 working on the A400M project.
"We should not accept the situation and continue this stupidity that could seriously jeopardise Airbus and its commercial competitiveness," Enders said.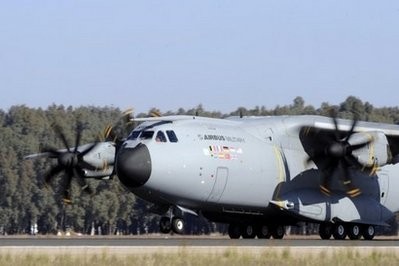 The Airbus A400M military transporter lands after its first test flight in Seville, 2009.
Developing the high-tech A400M transport planes has proved much more costly and time-consuming than anticipated when the project was agreed in 2003 by NATO members Germany, Spain, France, Britain, Turkey, Belgium and Luxembourg.
A total of 180 aircraft have been ordered for about 20 billion euros (29 billion dollars) but clients are being asked to plough in more to cover unexpected costs and some countries have voiced unease about the extra costs.
Airbus and its parent group, the European Aeronautic Defence and Space Company (EADS), have been in discussions over cost overruns for several months with the seven partner countries.
The negotiations are to be wrapped up at the end of this month.
Deliveries are at least three years behind schedule and the project could end up costing up to 11 billion euros more than expected.
EADS has put aside 2.4 billion euros in provisions and is spending 100 million euros per month on the A400M programme, Enders said.
"I ring the alarm bell," he said.
Turkey said last week it did not want to provide more money.
France has insisted that the programme must go ahead, while Germany looks unwilling to plough more money into the project. Germany and France are the project's biggest customers, with 60 and 50 orders respectively.
"We want this programme to be completed," French Defence Minister Herve Morin said in a televised interview.
A source close to the German defence ministry was quoted last Wednesday in the newspaper Handelsblatt as saying: "It is out of the question for us to pay more than the 650 million euros extra stipulated in the contract."
According to a report in the Financial Times Deutschland last week, Enders told a group of Airbus directors he "no longer believed in pursuing the programme" and had begun to prepare for it to be terminated.
"We made a big mistake when we (entered into) contracts for this aircraft six or seven years ago," Enders said in an interview with BBC World Business Report late Monday.
"We should not again take a decision which would lead us to further problems in the years to come."
EADS chief executive Louis Gallois said the programme "cannot go on without knowing" whether it will get the necessary funds.
"Our duty is to protect the interest, the capacity and sustainability of Airbus," he told reporters in Seville.
Gallois expressed disappointment that no meeting was scheduled with the company while the client governments are scheduled to meet in London on Thursday.
"I regret there is no meeting scheduled with us," he said.
Despite its A400M project problems, Airbus said it had outperformed US rival Boeing in 2009 with 498 plane deliveries and 310 orders -- although net orders totalled 271 owing to cancellations caused by the global credit crunch.
Airbus commercial director John Leahy said the company is forecasting "between 250 and 300" orders in 2010.
But turnover dropped last year and Airbus only delivered 10 of its super-jumbo A380s in 2009 compared to 12 in 2008, company executives said.
Airbus's turnover reached 41.7 billion euros in 2009, a drop from 43.2 billion euros in 2008, according to preliminary figures. Related article: Airbus says beats Boeing
EADS shares were down 3.14 percent at 14.025 euros in midday trade in Paris.