The bungled response that allowed a suspected bomber onto an airliner has exposed persistent holes in US security operations despite the post-September 11 revamp, officials and experts say.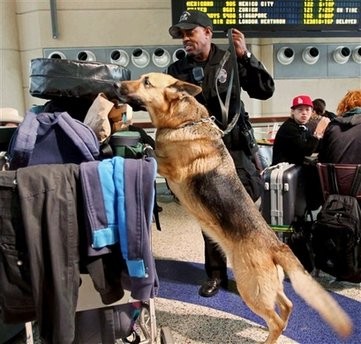 Los Angeles International Airport Police Officer Jerome Evans uses 'K-9 Alda' to check baggage under increased security efforts in Los Angeles Monday, Dec. 28, 2009. (Photo: AFP)
The father of Umar Farouk Abdulmutallab raised concerns about his son's radicalism to the US embassy in Nigeria yet the 23-year-old was still able to board the Detroit-bound plane that he allegedly tried to blow up on Christmas Day.
President Barack Obama, who has faced growing criticism from Republicans over the plot, has said he found that lack of coordination "totally unacceptable."
The New York Times reported Wednesday that the National Security Agency intercepted conversations four months ago among Al-Qaeda leaders in Yemen plotting to use a Nigerian man for a coming attack.
Although the intercepts were translated and shared within the intelligence community, the information was not connected to the subsequent warning from Abdulmutallab's father, the Times said.
Alhaji Umaru Mutallab went to the embassy urgently seeking help in November when text messages showed his son was in Yemen and had become a fervent radical, it said.
A cousin quoted the father as telling US officials: "Look at the texts he's sending. He is a security threat," the Times said.
The Central Intelligence Agency and State Department both said they passed information gleaned from Abdulmutallab's father to the National Counterterrorism Center, which was set up after the September 11, 2001 attacks to track threats, drawing on intelligence from across the government.
"If somebody thinks the dots could have been connected better in this case, they know where to go for answers," a US intelligence official told AFP on condition of anonymity.
While the case looks clear-cut after the bombing bid, the official said it was much murkier at the time as the father was trying to find a son who was until then unknown to intelligence agencies.
"I'm not aware of any smoking gun piece of intelligence -- somehow withheld -- that would have automatically put Abdulmutallab on the selectee or no-fly lists," he said.
Senator Dianne Feinstein, a Democrat who heads the Senate Select Committee on Intelligence, said that guidelines issued in 2008 raised the bar to put an individual on the watchlist.
"The US government should watchlist, and deny visas to, anyone who is reasonably believed to be affiliated with, part of or acting on behalf of a terrorist organization," she wrote in a letter to Obama.
The US embassy in London, where Abdulmutallab was studying, issued him a two-year multiple-entry tourist visa in June 2008, a State Department official said.
But the official said the State Department could not revoke visas due to security concerns and instead referred the father's concerns about Abdulmutallab to the National Counterterrorism Center.
James Jay Carafano, an expert on national security at the conservative Heritage Foundation, said it was too easy to blame systemic problems and that the key was simply to follow leads.
"It's really a leadership issue," he said. "People don't want to do things. Information gets pumped into the National Counterterrorism Center and they say, 'Okay, this doesn't mean much to us,' and they shove it."
The center was established in 2004 under then-president George W. Bush after intense criticism that US agencies had been ill-prepared to prevent September 11. The center says some 500,000 people were on its watchlist as of January.
CBS News quoted an unnamed intelligence official as saying that US authorities suspected Al-Qaeda was preparing a "Christmas surprise" but that the counterterrorism center was wading through 8,000 messages a day.
The Bush administration, in its post-September 11 revamp, consolidated 16 agencies under a newly powerful director of national intelligence and created a Department of Homeland Security.
But turf wars have been scarcely hidden. The Los Angeles Times reported Tuesday that the White House issued a classified order this month rejecting a bid by Director of National Intelligence Dennis Blair to exercise more control over the Central Intelligence Agency, the highest-profile spy body.
James R. Thompson, a former Republican governor of Illinois who served on the 9/11 commission that investigated the attacks, said that the government could change the shape of bureaucracy but not how people inside it operate.
"That's the problem," he told the PBS Newshour. "The bias against sharing intelligence or acting together still exists today."