As Europe's airspace reopened and weary passengers boarded long-delayed flights home, airline executives pressed for government compensation to cover the industry's massive losses.
Eurocontrol, Europe's air safety authority, said they expected air traffic to be "almost 100 percent" on Thursday, estimating that 75 percent of the 28,000 flights normally scheduled Wednesday had flown.
All Europe's main air hubs were up and running Wednesday and experts in Iceland said the Eyjafjjoell volcano had lost most of its intensity.
But a week after a volcanic eruption in Iceland caused the worst disruption to aviation since World War II, airline bosses were counting their losses -- and wanted to know who would foot the bill.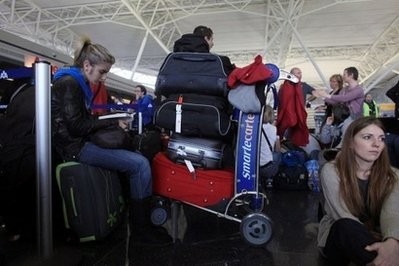 Stranded travelers trying to get back to Brussels wait in line at John F. Kennedy Airport in New York.
The International Air Transport Association (IATA) put the overall cost to the airline industry at 1.7 billion dollars (1.3 billion euros): at its peak, said IATA, the crisis was costing 400 million dollars a day.
"For an industry that lost 9.4 billion dollars last year and was forecast to lose a further 2.8 billion dollars in 2010, this crisis is devastating," said IATA chief Giovanni Bisignani in Berlin.
"Airspace was being closed based on theoretical models, not on facts."
Now governments needed to look at how to compensate the airlines, he said.
"I am the first one to say that this industry does not want or need bailouts. But this crisis is not the result of running our business badly."
An extraordinary situation had been exacerbated by "poor decision-making" from the governments," he argued.
"Governments should help carriers recover the cost of this disruption."
British Airways chief executive Willie Walsh had already branded the ban unnecessary, and British opposition leader David Cameron called for a public inquiry into the government's handling of the crisis.
Conservative leader Cameron, who is locked in an election battle with Labour Prime Minister Gordon Brown, said there had been "muddle and confusion" in the government over the crisis.
But as the recriminations flew, one vulcanologist advising the United Nations said the authorities had had no choice but to close their airspace because of the lack of hard facts about aircraft behaviour in volcanic ash.
"There is at the moment no reliable data on the exact concentration of ash in the atmosphere and when an aircraft can fly, or not, through such plumes," said Gaudru, president of the European Vulcanological Society.
Because of this lack of knowledge, closure to air traffic "was the only measure that could be taken," he argued.
The April 14 decision by several European governments to close their airspace affected millions of would-be passengers around the world.
But the main hubs in the continent's flight networks expected to be running as normal Thursday.
Germany's Lufthansa, Europe's largest airline by passenger numbers, said it would fly at full capacity on Thursday by operating around 1,800 flights compared to the 700 it was able to run on Wednesday.
All long-haul passenger services from Paris' main international hub Charles de Gaulle were operating as scheduled, while Air France said it had flown 40,000 stranded people back home since Tuesday.
"Our traffic has returned to normal," a spokeswoman said.
And London Heathrow airport, the biggest and busiest in Europe, was going strong after reopening late Tuesday.
The only place in Britain still affected by the volcanic ash cloud was in the north, where the airspace over the remote Scottish isles of Orkney and Shetland were temporarily closed again due to still unsafe ash levels.
In Scandinavia, however, Denmark, Norway and Sweden lifted the last of their restrictions in a sign the worst of the threat had faded.
Some 450 British troops and 280 civilians stranded by the volcanic ash cloud finally made it back home Wednesday after a warship came to their rescue.
HMS Albion sailed into Portsmouth Naval Base on the southern English coast after a day-long crossing from Santander in northern Spain.
The troops were returning from a six-month tour of duty in Afghanistan: the civilians were largely holidaymakers stranded by the closure of British airspace.
In Iceland, the civil protection agency said the volcano had lost nearly 80 percent of its intensity.
"Explosive activity has diminished. Ash production has gone down. It's really insignificant right now," said Pall Einarsson, a seismologist from Iceland's Institute of Earth Sciences.
Einarsson, however, said the volcano had "not gone to sleep" and that it was impossible to predict when it would stop erupting.