With snail-paced queues, extensive body searches and in-plane security scares, air travel since the attempted Christmas Day attack has been testing the nerves of passengers around the world.
US authorities Monday clarified the new measures in place, directing foreign airports to tighten security for flights into the United States but saying that domestic travel would remain essentially unchanged.
Travelers were urged to allow hours more for security, although rules that confined passengers to their seats for their last hour in the air were expected to be relaxed somewhat.
Paul Angoua, a Montreal resident who headed Monday to Washington, was stunned that the airport was already crowded when he arrived at 6:00 am.
"It's a mess -- three hours in security for a flight that's barely one hour long," he said.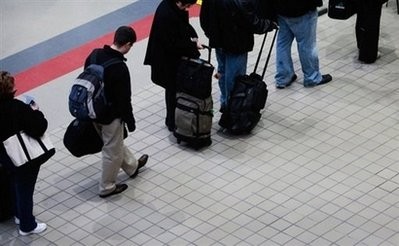 Passengers wait in line for screening at Pittsburgh International Airport December 28, Pennsylvania
But with large parts of the world still in holiday mode, barely half of security posts were open despite the multiple layers of checks.
"They need to get more people," said Montreal-Washington passenger Jason Maggio. "One or two security layers, sure, but three, that might be a bit much."
AFP reporters saw similar scenes at airports across the world.
In Copenhagen, a flight to Washington's Dulles International Airport was one hour late taking off on Sunday as security agents undertook a thorough frisking of all passengers and searched all carry-on baggage by hand.
Dino Melchior, 50, was stuck in Chicago with his parents and two children after his flight from Toronto was delayed by two hours due to heightened security, causing them to miss a connecting flight to Hawaii.
"Apparently a new directive came out for people to be physically patted down and they weren't prepared for it," Melchior said. "I've never seen lines like that."
But some passengers accepted the security regulations with good humor.
"I'm not worried at all," said Mary Lecarpentier, who was traveling from London's Heathrow Airport to New York to celebrate New Year.
"Sometimes there are delays and you just deal with them but we haven't experienced any," she said.
Amsterdam-Schiphol airport was investigating how a 23-year-old Nigerian, Umar Farouk Abdulmutallab, smuggled on board explosives that he allegedly tried to detonate as the Northwest Airlines flight approached Detroit.
The US Transportation Security Administration recommended that passengers arrive at least an hour earlier than usual for US-bound international flights.
"Passengers flying into the United States from abroad can expect to see additional security measures at international airports such as increased gate screening including pat-downs and bag searches," it said in notice on its website.
But US media reports said authorities were likely to ease some of the more stringent -- and not uniformly enforced -- restrictions, including barring passengers from using the lavatory or holding baggage in the last hour of flight.
The International Air Transport Association called for officials to be flexible in applying the new rules.
"In the very short term, we understand the need for emergency security measures," association spokesman Steve Lott said. "We'd hope the authorities would adjust the procedures depending on the risks."
Douglas Laird, who used to head security for Northwest Airlines, told the PBS Newshour on US public television that even tight security may not be enough to weed out a determined terrorist.
"Unless you do a very intrusive patdown -- i.e., we're going to have to feel parts of the body where people don't like to be touched, where people are going to hide the explosives," he said, "the same event could happen tomorrow."