Air travellers worldwide faced tightened security Sunday as authorities ramped up efforts to prevent attacks in the wake of a failed bid to blow up an airplane over the United States.
Amsterdam-Schipol airport was also investigating how a 23-year-old Nigerian with reported links to Al-Qaeda could smuggle onboard explosives that he allegedly tried to detonate as the flight approached Detroit.
The United States quickly asked airlines worldwide to tighten security and airport authorities said they were complying with extra screening and strict baggage limits that heaped hours onto check-in times.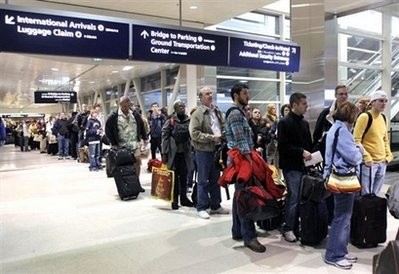 Passengers stand in line to go through a security screening at the Detroit Metropolitan Airport.
Singapore Airlines
moved quickly to announce strict new rules for flights to the United States from the busy Asian hub.
"One hour before the plane lands in a US airport, all passengers must be seated, and should not have any baggage near them or be covered with any blanket. The inflight entertainment system would also be turned off," said a company spokesman.
Extra measures, including frisking of passengers and searching hand baggage came into force on Saturday morning in The Netherlands, which received a formal request from the US authorities soon after Friday's botched attack. Related article: Nigerian charged with bid to blow up airliner
Within the United States, the Department of Homeland Security tightened security checks for passengers on all domestic and international flights, putting additional screening measures into place.
"These measures are designed to be unpredictable, so passengers should not expect to see the same thing everywhere," the department's statement said.
In London a British Airways spokesman said new rules were coming into force.
"This includes additional screening of all US-bound passengers and hand luggage before they board their flights," he said. "Passengers travelling to the US will only be allowed to carry one item of hand luggage."
At Paris's Charles de Gaulle airport passengers were told that all hand baggage had to be checked into the hold, except for women's handbags, one traveller told AFP.
Items required during the flight had to be put into special plastic bags and passengers were frisked again just before boarding when their remaining hand luggage was reexamined, he said.
Rome and Stockholm also announced more stringent security for planes to the United States.
Hong Kong carrier Cathay said it was banning US-bound passengers from using cabin phones at any time during the flight.
Elsewhere, in Asia, New Zealand said passengers flying to the United States were being separated from other international travellers following routine screening for additional baggage checks and body searches.
Authorities in Japan urged passengers to allow more time at the airport amid warnings that tightened security would lead to delays.
Canada announced "immediate action" and also warned that stricter security could cause delays.
Meanwhile, Afghan authorities said they would not be beefing up already-tight security at Kabul's international airport.
"Our security arrangements at Kabul international airport were already serious and we have good measures," said Zamary Bashari, interior ministry spokesman.
The European Commission in Brussels said it was investigating if proper security measures had been followed in Amsterdam where would-be bomber Umar Farouk Abdulmutallab had boarded the Northwest Airlines flight.
"This incident shows once again that vigilance is necessary at all times in the fight against terror," a commission vice president, Jacques Barrot, said in a statement.
Abdulmutallab had been able to pass what US authorities have determined was the high explosive PETN through checks at Schiphol.
Since Al-Qaeda's suicide attacks with hijacked airliners on New York and Washington in September 2001 and an attempted "shoe-bombing" on a Christmas week flight a few months later, airline security has been increasing.
In 2003, airlines reinforced cockpit doors to prevent terrorists from taking control of planes and in 2006 many countries introduced strict restrictions on liquids allowed in luggage.
In 2008, the European Parliament authorised the presence of armed air marshals on commercial flights, following the US example.
But experts point out that 100 percent terrorism-proof airports simply do not exist, as reporters have shown by smuggling weapons and explosives onto flights.