Alabama, Aug 13, 2010 (AFP) - The southern US state of Alabama has filed a lawsuit against BP and other companies linked to the oil spill "catastrophe" that soiled the Gulf of Mexico coastline, a state official said Friday.
The lawsuit, filed Thursday, accuses British oil giant BP, Transocean, "and others responsible for the Deepwater Horizon catastrophe" of causing serious damage through negligence and failing to adhere to safety standards.
The amount of compensation Alabama is seeking will be determined in court, state Attorney General Troy King said in a statement.
"BP said that this was their disaster and they would accept responsibility for it. Yet thousands wait while their claims are backed up in the system," King said.
"Based on BP's broken promises, their history of saying one thing and doing another, and now, new information that they have been secretly working to gain a legal advantage, further delay (of legal action) can only further damage our people," King said.
He accused the energy firm of "retaining all the best expert witnesses, not because they need their services, but so the experts will be unable to testify against BP."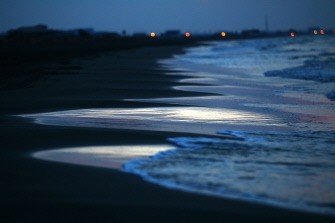 The sun rises over the beach August 13, 2010 in Grand Isle, Louisiana. AFP
Alabama is seeking compensation, among other things, for destruction of the state's natural resources; economic losses resulting from destruction of state property; and for the loss of taxes revenue.
The state also wants money for cleanup response and rehabilitation costs, and wants punitive damages imposed on the companies.
"BP is now on notice, Alabama intends to hold you good to your word and to make you put our state back the way you found it," King said.
BP said Thursday it had paid out 347 million dollars in claims since May 3, after receiving 148,000 claims.
It said it has yet to deny a single claim, though some 40,000 claims are still outstanding or awaiting adjustment.
The company, which has seen its reputation take a beating in the US over the oil spill, insists it is doing the best it can and has promised to pay all legitimate claims.
The Macondo well off the coast of Louisiana began leaking after a massive explosion ripped through the BP-leased Deepwater Horizon rig April 20, killing 11 workers and causing the platform to sink two days later.
An estimated 4.9 million barrels have leaked into the ocean -- enough oil to fill 311 Olympic-sized swimming pools. The disaster is the biggest maritime spill on record.
The spill affected the coasts of the southern US states of Louisiana, Alabama and Mississippi, as well as parts of the Florida and Texas coastline.