Algiers summoned the Egyptian ambassador Friday to protest at attacks by the Egyptian media on Algeria following the country's World Cup-qualifying victory, APS news agency reported.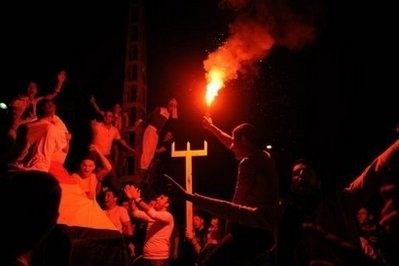 Algerian fans light fireworks in a main street of Algiers late on November 18, to celebrate the victory of Algeria over Egypt after their World Cup 2010 qualifying football match in Karthoum. (AFP Photo)

Algerian Foreign Minister Mourad Medelci expressed his country's "incomprehension and major concern" in the face of "the escalating media campaign" in Egypt, a statement cited by the agency said.
Medelci said he hoped that Egypt would put an end to this campaign which "does not serve the interests of the two countries".
Tensions between Cairo and Algiers following Algeria's 1-0 victory over Egypt developed into a diplomatic crisis on Thursday with Egypt saying it intended to recall its ambassador to Algeria.
Cairo justified this move over alleged attacks by Algerians on Egyptian supporters in Khartoum, where Algeria beat Egypt on Wednesday to secure its place in the 2010 World Cup in South Africa.
The Algerian ambassador to Egypt Abdelkader Hadjar has also been summoned to the Egyptian foreign ministry to hear Egypt's concerns following his country's victory.
It was the second occasion Hadjar was summoned in the space of a week -- on Monday, he was called on to explain attacks by Algerian supporters on Egyptian businesses in Algiers.
Medelci insisted Friday that Algeria had taken all necessary measures to protect Egyptian homes and businesses in Algeria.
Wednesday's play-off came after Egypt defeated Algeria by two goals in Cairo on Saturday.
Before the Cairo match, the Algerian team's bus was stoned by Egyptian fans, injuring three players, and buses full of away fans were stoned afterwards.
Earlier Friday, Egyptian protestors threw stones at security forces protecting the entry to the Algerian embassy in Cairo, injuring 35 people, including 11 Egyptian police officers.