China has asked all schools to check the quake resistance of their buildings, an official said Wednesday, after thousands of children died in the Sichuan earthquake.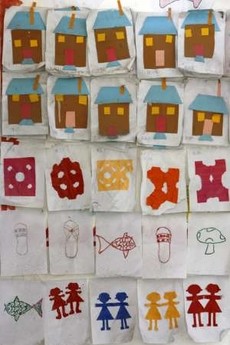 Schoolchildren's artworks hang inside a destroyed classroom in Yongan county in Mianyang City, Sichuan province May 14, 2008. (AFP Photo)
The schools will have to be thoroughly checked by September 1, an official at China's Ministry of Education said, particularly those with concrete and brick structures that were built before 2001.
"To improve the quake-resistance ability of all schools, to eliminate hidden dangers, to guarantee the safety of teachers and students, we have decided that every school in the country must go through a thorough check," the ministry said in a statement on its website.
All public buildings and facilities were to be inspected, the ministry said, including student dormitories, canteens, toilets, and bathrooms.
Any problems encountered during the checks would be entered into a database, according to the ministry.
Schools where problems were found would be reinforced, it said.
The collapse of so many schools in the 8.0-magnitude earthquake that hit southwest China's Sichuan province on May 12 has caused outrage among grieving parents and the wider Chinese population.
One of the most disturbing images of the quake, which killed 69,146 and left another 17,516 missing, has been of schools in towns destroyed in seconds while surrounding buildings remained standing.
In one school alone in Mianyang city, more than 1,300 children and teachers are dead or missing.
The simmering discontent has spurred the Chinese government into promising investigations into the design of the schools, and punishment for those found guilty of shoddy building work.