"It is unfortunate that we are in civil war," Allawi told BBC television on the eve of the third anniversary of the US and British invasion that overthrew Saddam Hussein's dictatorship.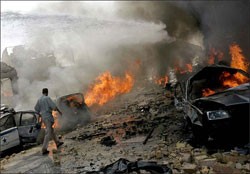 Iraq loses each day an average 50 to 60 people through the country
"We are losing each day an average 50 to 60 people throughout the country, if not more," he said. "If this is not civil war, then God knows what civil war is."
Allawi's comments were made as 12 Iraqis were killed on Sunday in insurgent attacks, including a drive-by shooting, and a US raid north of Baghdad, security sources said.
His views meanwhile contrasted with those of British Defence Secretary John Reid, who on Saturday had insisted that civil war in Iraq was neither imminent nor probable despite increased violence between factions.
"There is no civil war, it isn't imminent, it isn't likely, although there has been an increase in sectarian violence," Reid told Sky News television from Iraq, where he had Friday met with his Iraqi counterpart Saadun al-Dulaimi.
Allawi told the BBC's "Sunday AM" programme that he had warned against a political vacuum in Iraq, and had expressed concern over the dismantling of Saddam's armed forces and prevalence of militia groups.
Iraq is "edging towards" a deal between its political factions to secure a national unity government, but that will not represent "an immediate solution" to its post-invasion problems, Allawi said.
"Iraq is in the middle of a crisis," he said. "Maybe we have not reached the point of no return yet, but we are moving towards this point. We are in a terrible civil conflict now."
"It will not only fall apart, but sectarianism will spread throughout the region -- and even Europe and the United States would not be spared all the violence that may occur as a result of sectarian problems in this region."
The latest Iraqi violence comes a day after some 15,000 demonstrators took to London streets to demand the immediate withdrawal of British forces from Iraq.
Between 750,000 and two million people had taken part in a similar protest in London in February 2003, just a month before the start of the US-led military action against former Iraqi president Saddam Hussein on March 20 that year.
Reid announced in London last Monday that British forces in Iraq would be reduced by about 800 to just over 7,000 personnel starting as Iraqi forces assume a greater security role.
British forces, responsible for security in southern Iraq, control four of the country's 18 provinces.
British Prime Minister Tony Blair last Thursday insisted he stood by his decision to attack Iraq alongside the United States.
Source: AFP