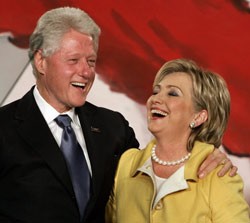 Democratic Senator Hillary Clinton of New York and her husband former President Bill Clinton are all smile after she won her 2nd term. (AFP Photo)
America has voted for change, an upbeat Hillary Clinton said after being reelected to the Senate Tuesday, telling her supporters that New York and the country wanted a new beginning.
The former First Lady, who easily secured reelection and is widely expected to run for the presidency in 2008, told campaigners at her acceptance speech that she was prepared to "roll up my sleeves and get to work."
Flanked by husband and former president Bill Clinton, she pointed to the wide picture of Democrat gains, with control of both the Senate and House of Representatives in the opposition party's sights.
"This is a big night for Democrats, isn't it? ... I want to thank you for standing up for change," she told screaming supporters in a New York hotel.
"We believe in our country and we're going to take it back, starting tonight," she added. "New Yorkers and Americans ... want a new beginning for our beloved country."
"The message couldn't be clearer: that it is time for a new course," she said, warning meanwhile that much work remained to be done.
"We have made a statement here tonight."
Iraq was one of the key issues in the election, with the war proving increasingly unpopular, and Clinton has been forced onto the back foot at times to defend her initial vote in favour of the war.
But she called for a new direction Tuesday.
"We have voted for a continuing effort against terrorism but for a new course in Iraq, a new course that brings us together, Democrats, Republicans, independents, not one that tears us apart," she added.
"What's happening across our county today is a good sign that democracy and our constitution are alive and well," she said.