An American has been detained for illegal entry into North Korea, Pyongyang's state media said Tuesday, an apparent reference to a Christian activist who crossed the border on a lone rights crusade.
"An American was detained after illegally entering the DPRK (North Korea) through the DPRK-China border on December 24," the Korean Central News Agency said in a one-paragraph report.
"He is now under investigation by a relevant organ."
Activist Robert Park, 28, was reported by colleagues to have crossed into the North on December 25, Christmas Day, in a one-man protest against repression in the hardline communist state.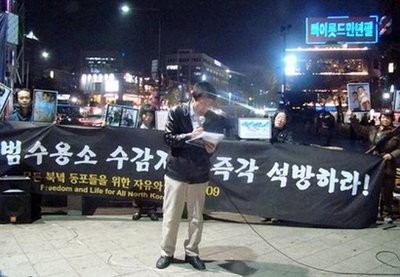 Activist Robert Park (pictured, centre) during a human rights rally in Seoul, South Korea.
They said he walked across the frozen Tumen River from China.
Park, a US citizen of Korean ancestry, claimed he had seen a vision from God of North Korea's liberation and redemption, his colleagues said, adding that he crossed the border shouting "I came here to proclaim God's love".
Park, from Tucson, Arizona, carried a letter calling on North Korean leader Kim Jong-Il to release political prisoners, shut concentration camps and take steps to improve rights and conditions, his colleagues said. Related article: US concerned N.Korea may be holding an American
The US State Department expressed concern Monday the North may have detained the activist. It said Sweden, which represents US interests in Pyongyang in the absence of diplomatic relations, has offered to seek more information.
Cho Sung-Rae, one of Park's fellow activists in Seoul, said he was detained on Christmas Day and not December 24.
"I don't understand why North Korea is trying to distort facts," Cho told AFP. "Maybe it could be part of its attempt to avoid criticism that he was detained on Christmas Day."
Cho called on Pyongyang immediately to release Park and said the US government should intervene, even though Park has said he would not seek any intervention by Washington.
In March two US television journalists who crossed into North Korea from China while working on a story about human trafficking spent more than four months in jail for illegal entry.
Laura Ling and Euna Lee were sentenced to 12 years' hard labour but were freed as part of a diplomatic mission spearheaded by former US President Bill Clinton in August.
Kim Yong-Hyun, a professor at South Korea's Dongguk University, said the North is expected to expel Park after various formalities since the case is different from that of Ling and Lee.
"There is no reason for North Korea to dance to his (Park's) tune," he said. "North Korea knows that prolonged detention would stoke international criticism of its human rights conditions."
Kim told AFP he does not expect the case to create a major diplomatic problem with the United States at a time when the North is trying to improve relations.
After months of sabre-rattling marked by a nuclear test and missile launches, the North used Clinton's visit to extend peace feelers. US envoy Stephen Bosworth visited Pyongyang this month to try to persuade it to return to nuclear disarmament talks.