Philippine soldiers using metal detectors, sniffer dogs and an excavator unearthed more than a dozen crates of bullets Friday in the mansion of a local mayor linked to last week's massacre of 57 people, a spokesman said.
Hundreds of army and combat-trained police units searched the houses of local mayor Andal Ampatuan Jr., main suspect in the country's worst election-related violence, and his father for evidence.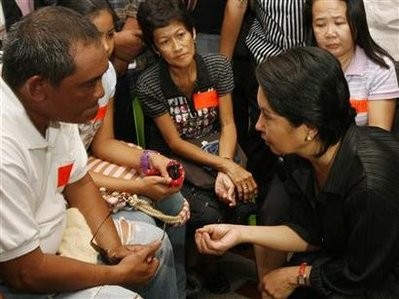 Philippines President Gloria Macapagal Arroyo (R) talks to family members of journalists killed in the Maguindanao massacre as she visits their wake in General Santos city in southern Philippines December 3.
A third house was being searched, an army spokesman said.
"Our troops were armed with a search warrant," military spokesman Lieutenant-Colonel Romeo Brawner told reporters, adding security forces were looking weapons in the houses in the southern province of Maguindanao.
Security forces disarmed the Ampatuan family after entering their houses. Ampatuan Jr is already in custody.
On November 23, gunmen attacked a convoy of the family of a local politician planning to run for elections next year, lawyers and journalists. Fifty-seven bodies were later found off the highway, some on a grassy hillside and some buried in a hastily dug pit.
More than half the victims were journalists.
Ampatuan Jr and several as yet unidentified suspects face 25 counts of murder before a regional trial court in Cotabato City on the southern island of Mindanao.
They were accused of conspiracy in the execution of the wife, sisters and relatives of a rival politician, two lawyers, dozens of journalists and other civilians in Ampatuan town.
Local radio reports said soldiers with metal detectors and dogs searched through Ampatuan Jr.'s house, tearing down a concrete wall where the boxes of ammunitions were found. An excavator was also brought in to dig inside the housing complex.
Thursday, soldiers unearthed a large cache of weapons, including three mortars, four machineguns, three anti-tank bazookas, dozens of assault rifles and hundreds of boxes of bullets from a vacant lot about 500 meters from the Ampatuans' residential complex.
Some of the boxes bore markings of "DND" -- initials of the Department of National Defense -- and "national arsenal."
"We've started an internal inquiry to determine if these weapons and ammunition were issued by the government and if these were sold by some soldiers," Brawner said.
The illegal sales of military weapons and corruption in the army bureaucracy are issues raised in the past by rogue soldiers who mounted coup attempts against the government of President Gloria Macapagal Arroyo.
Half a dozen armored vehicles mounted with machineguns stood guard Friday outside the walled compound enclosing the mansion of the Ampatuans that ruled for nearly a decade the Muslim-dominated Maguindanao province. Hundreds of security forces also manned checkpoints leading to the Ampatuans' houses.