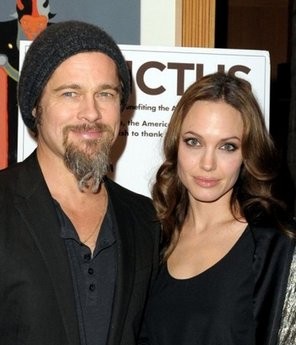 AFP file photo shows actors Brad Pitt (L) and Angelina Jolie in Beverly Hills, California.
SARAJEVO, April 5, 2010 (AFP) - Film stars Angelina Jolie and her husband Brad Pitt flew into Bosnia on a surprise visit to meet refugees still suffering from the Balkan country's brutal 1992-1995 civil war, an official said Monday.
"They are in Bosnia to visit the sites run by the UN High Commissioner for Refugees (UNHCR)," local UNHCR spokeswoman Aida Prljaca told AFP.
Jolie and Pitt have not been seen in public since Bosnian border police announced that a famous Hollywood couple had arrived late Sunday.
Prljaca said the couple's visit to Bosnia would be discreet, without any contact with media, and that the UNHCR would likely issue a statement later in the day.
Dozens of photographers staked out the luxury Hotel Europe in the centre of the Bosnian capital overnight Sunday, said an AFP photographer.
The couple flew into Sarajevo from Venice, where Jolie is working alongside Johnny Depp on the film "The Tourist", which is loosely based on the French mystery "Anthony Zimmer".
Its director is Florian Henckel von Donnersmarck, who was behind the critically acclaimed 2007 German film "The Lives of Others".