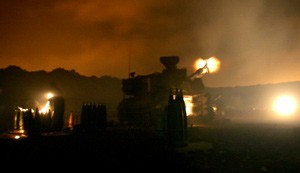 An Israeli mobile artillery unit fires towards southern Lebanon from the northern border of Israel, in the western Galilee, July 21, 2006.
The spiritual leader of the Anglican Church urged Britain and the United States Friday to back international calls for an immediate ceasefire between the Israelis and Hezbollah in Lebanon.
The Archbishop of Canterbury, Rowan Williams, said Hezbollah militants were using the people of Lebanon as a human shield but argued that diplomacy rather than bombing by Israel was the best way to resolve the crisis.
London and Washington have so far refused to join other nations in demanding that Israel end its attacks on Lebanon and the Gaza Strip, where the Jewish state has been fighting Hamas militants.
Assessing the situation in an interview on BBC radio, Williams said: "I think here we really have to ask whether the governments of some Western countries are catching up with the consciences of their own people."
Asked what he meant, the archbishop said: "I mean that the major players in this at the moment who are not supporting a ceasefire -- our own government and the United States government -- may perhaps have to reckon with a rising level of public despair and dismay at the spiral continuing, and I hope very much that they will bring their influence to bear in moving towards a ceasefire."
He added: "They need to change their minds."
Williams likened the conflict in Lebanon to a large-scale hostage crisis.
He said Hezbollah militants were holding the people of Lebanon hostage, while Israel -- a legitimate government -- was the force of law dealing with the problem.
There were two ways to resolve a hostage drama -- using force in which some of the hostages may die, or attempting to talk with the kidnappers, he said.

The U.N. estimated that about a half-million people have been displaced in Lebanon, with 130,000 fleeing to Syria and about 45,000 believed to be in need of assistance.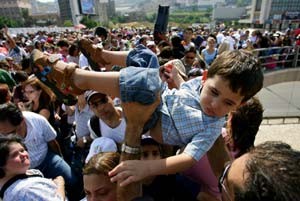 US citizens flee Lebanon, July 21, 2006 (AFP Photo)
Thousands more foreigners flee Lebanon blitz
Foreigners continued to flee Lebanon en masse on Friday, with some fainting from the blazing summer sun as crowds waited for ships to take them away from the relentless Israeli bombardment.
About 4,500 Americans were due to depart on three ships, assisted by US Marines who were operating in Lebanon for the first time since pulling out after a bomb attack on their Beirut barracks by Lebanese guerrillas in 1983 which killed 240 people.
At the Mediterranean port of Dbayeh, a northern suburb of Beirut, thousands of Americans, most of them dual US-Lebanese citizens, were waiting to be processed to board the ships, including the US Nashville warship.
"Several people have fainted and were being treated," Carina Karam, a pediatrician traveling with her three children, told AFP.
"We have been waiting for five hours now, and we have no guarantees of being processed any time soon. The children cannot take this waiting and this big mess," said Bashir Omar, a businessman traveling with his two children.
It was the third day of operations in Lebanon for the Marines who were securing the safe evacuation of their nationals, terrified by the massive onslaught by Washington's main Middle East ally, Israel, whose military has already killed more than 330 people in Lebanon.
The US effort to get its people to safety -- mostly via the nearby Mediterranean island of Cyprus -- was being paralleled by other nations like Britain, France, Greece, India, China, the Philippines and Australia.
Canadian nationals were also gathered at a seaside exhibition center in Beirut, awaiting transport by bus to neighboring Syria.
More than 1,000 French nationals will be evacuated later Friday.
Source: AFP