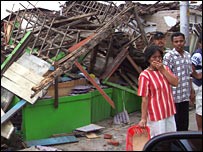 South west of Yogyakarta is devastated (Photo: BBC)

A 6.0-magnitude earthquake rocked the easternmost Indonesian province of Papua on May 30, but there were no reports of injuries or damage, a meteorological official, said.



The temblor struck the Wamena district town in Jayawijaya regency and nearby areas at about 12:29 p.m. (0329 GMT), said Fadli Yusuf, an official at Jakarta's Meteorology and Geophysics Agency.

Fadli said the earthquake's epicenter was on land about 147-kilometres southwest of Papua's capital of Jayapura, and took place at about 33 kilometers under the earth.

Antara, Indonesia's state-run news agency, reported the quake-triggered panic among residents in Wamena and in the capital Jayapura.

On May 27, a 6.2-magnitude earthquake flattened thousands of homes in the Javanese cultural town of Yogyakarta and nearby areas, killing more than 5,400 people and wounded thousands of others.