Japan, the United States and six other nations signed a treaty in Tokyo on Saturday to fight counterfeit and pirated goods, saying their proliferation hurts economic growth and helps organised crime.
But the Anti-Counterfeiting Trade Agreement was not joined by China, where counterfeit products are widely produced and distributed.
At the signing ceremony, Japanese Foreign Minister Koichiro Gemba nonetheless said the treaty "turns a new page" in global crackdowns. "We must stop damage from surging counterfeit and pirated products," he said.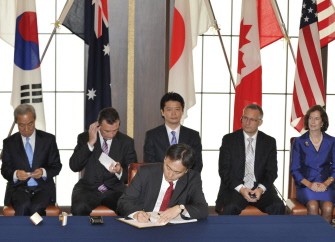 Singapore's Law Ministry Deputy Secretary Pang Kin Keong (C) signs a document during the signing ceremony for the Anti-Counterfeiting Trade Agreement (ACTA) at the Iikura guest house in Tokyo on October 1, 2011
As well as Japan and the US, it was signed by Australia, Canada, Morocco, New Zealand, Singapore and South Korea. The EU, Mexico and Switzerland intend to sign once they have passed enabling legislation.
The treaty, for which negotiations began in 2008, is designed to enhance international frameworks for fighting the distribution of counterfeit brand goods and pirated music and film products.
The accord states that "the proliferation of counterfeit and pirated foods, as well as services that distribute infringing materials undermines legitimate trade and sustainable development of the world economy".
Such proliferation also causes financial losses for rights holders and provides "a source of revenue for organised crime and otherwise poses risks to the public," the treaty says.
The participating countries are expected to call on China and other nations to join the treaty to make it more effective.