Anti-corruption watchdog Transparency International has called on FIFA to postpone the race to host the 2018 and 2022 World Cups following fresh media allegations of corruption.
The call from the campaign group came just before the executive committee of world football's governing body is due on Thursday to designate the two host nations, in front of a high-powered gathering of world leaders and stars.
The selection of the 2018 and 2022 hosts "must be postponed until full light is shed on the allegations published in the press", Transparency International Switzerland said in a statement Monday.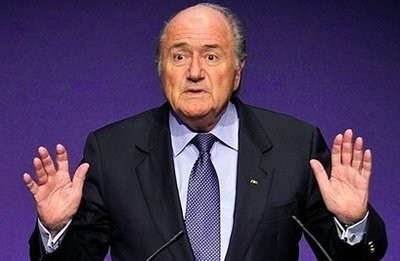 FIFA president Sepp Blatter in Zurich on November 19.
"These have brought such discredit to the decision-making processes at FIFA that a decision in the current circumstances would only fuel the controversy," it added.
The Swiss newspaper Tages-Anzeiger reported that Ricardo Teixeira of Brazil, African football chief Issa Hayatou and his South American counterpart Nicolas Leoz were tied to a secret list of payments from bankrupt FIFA marketing partner ISMM/ISL over a decade ago.
An investigation by BBC current-affairs programme Panoroma, broadcast late Monday, accused the same three executives.
Panorama also accused a fourth FIFA executive committee member, Trinidad's Jack Warner, of attempting to sell World Cup tickets on the black market.
The programme said it had obtained a confidential document from International Sports and Leisure (ISL), which detailed 175 payments totalling 100 million dollars made between 1989 and 1999.
Many of the payments were funnelled to front companies set up in Liechtenstein, Panorama alleged, with much of the cash eventually being paid to a "handful" of FIFA officials.
The ISMM/ISL firm collapsed in 2001 in a controversy over alleged kickbacks for TV rights contracts, prompting a FIFA criminal complaint that was later dropped.
A Swiss court handed down fines on three ISMM/ISL executives in 2008 for embezzlement or accounting offences.
Leoz was already listed as a recipient of suspect payments from the marketing firm, alongside several companies based in offshore havens, in evidence presented by the prosecutor in the Swiss canton of Zug in 2005.
Transparency said that even if those allegations were currently not proven, they needed to be investigated by an independent fact-finding body rather than FIFA's ethics committee.
The race suffered embarrassment in October when The Sunday Times in London reported alleged misdealing in bidding for both the 2018 and 2022 World Cups.
That report prompted the FIFA ethics body to suspend two other members of the 24-strong executive committee, Oceania football chief Reynald Temarii and Nigeria's Amos Adamu.
There were also signs that the secret ballot on Thursday could slip into confusion as the Oceania Football Confederation (OFC) sought the right to vote by replacing Temarii.
FIFA had suggested it would run the ballot with 22 of the 24 committee members, excluding Temarii and Adamu. But England 2018 bid chief executive Andy Anson was anticipating there would be 23.
"I think our colleagues in the OFC are confident they'll be voting this week," Anson told journalists.
FIFA wants Temarii to give up any appeal against his one-year suspension for misconduct, in return for another OFC official getting a vote on Thursday, Temarii's lawyer Geraldine Lesieur told AFP.
But Temarii will only decide after receiving a fuller ruling in his case and for now, "we are in an impasse", she said.
FIFA chief Sepp Blatter has promised that a "new FIFA" will choose the hosts, while acknowledging the need to examine more change afterwards to adapt to the growing economic stakes in football.
England, Russia and joint bids by Spain-Portugal and Netherlands-Belgium are in the running to host the 2018 World Cup.
Australia, the United States, Japan, Qatar and South Korea are bidding for 2022.
Bidding delegations started arriving in Zurich on Monday for a final lobbying drive in the city's plush five-star hotels.
British Prime Minister David Cameron, Prince William, Russia's Prime Minister Vladimir Putin, Qatari crown princes and former US president Bill Clinton were among those expected.