Privately armed merchant ships have a 100-percent success rate against Somali pirates, experts say, but using guards is wrapped in red-tape and dogged by fears over sending hired guns to sea.
Spiralling attacks off the lawless East African state have forced shipping companies to turn to private guards to shepherd crew and cargo through waters that reamin dangerous despite international naval patrols.
"They're crying out for it and it's a massive trend," Graham Cormac, director of South African firm Specialist Maritime Services, said. "At the moment, demand outstrips supply."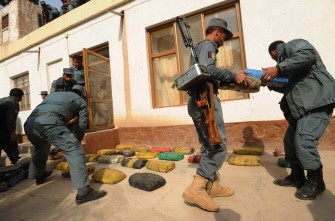 Hundreds of Somalis attend a rally organized by the Shebab at Elasha Biyaha, outskirts of Mogadishu, on October, 27, 2011.
His company charges up to $5,000 a day for four guards.
"The biggest problem that governments have is to do with their sovereign legislation pertaining to weapons," Cormac added.
"Policy has not kept pace with the evolving threat and without policy you can't adapt or change legislation."
Each country must grant permission for private guards in its waters, which can conflict with local weapons laws.
There are concerns too about the use of mercenaries, a spike in arms, questions of liability, and private militarisation of the seas.
"This is a contentious topic," said Joyce Marangu, Kenya Maritime Authority research and business development officer.
Private security had brought "some solutions but also serious challenges".
Ships carrying armed guards are meant to get clearance where they are registered, known as a flag state, before leaving on a voyage.
"We are however witnessing an increase in merchant vessels with armed guards onboard without the authorisation from these flag states," Marangu told a recent conference on African coastal security in Cape Town.
"Most ship owners find the process rigorous and avoid obtaining clearance so as not to lose windows at their next ports of call."
Equally, some ships choose not to report onboard security to regional authorities for fear that international patrols will regard them as self-armed and ignore them.
The UN maritime agency does not endorse armed guards. It promotes practices such as deterrent razor wire, water cannons, dummy look-outs, and electric fences to repel raiding pirates.
But it is also drawing up guidelines to adapt to the current realities at sea.
"The armed guards being on ships has had a positive effect to the defence of the shipping industry," Philip Holihead of the International Maritime Organisation's security division told AFP.
"They have a 100-percent success rate but I believe that is a figure that is just waiting to be toppled," Holihead, former a captain in Britain's Royal Navy, added.
Some smaller companies were hiring a single guard for a ship, he said.
By October 21, pirates had attacked 369 ships worldwide this year.
Somalis in search of hefty ransoms were responsible for 208 raids and had hijacked 24 ships out of 36 worldwide. Currently they hold 13 vessels and 249 hostages.
The knock-on effects are vast: from bloated insurance premiums to millions in ransoms. And Tanzania's Dar es Salaam has not docked a single cruise ship this year.
While several countries allow arming of ships, with up to 20 percent of vessels estimated to have onboard firepower in risky waters, South Africa is sceptical.
"We need to vet these people to know who is funding them," said South African navy chief Vice-Admiral Johannes Mudimu.
"At the same time, we don't want weapons proliferation in Africa because it will worsen the problems of Africa."
The International Chamber of Shipping has warned that private guards are not a long-term solution, but it has also argued that governments have shown little willingness to increase navy patrols.
"Many shipping companies have concluded that arming ships is a necessary alternative to avoiding the Indian Ocean completely, which would have a hugely damaging impact on the movement of world trade," said spokesman Simon Bennett.
"Despite our recognition of the need for armed guards to be an option, there is real danger that this will simply escalate the level of violence used by the pirates and increase the possibility of seafarers being killed."