Leaders of the 21-member APEC group were on Friday to seek ways of turning back the world economic crisis as they gathered here amid unrelenting bad news from the Asia-Pacific region.
US President George W. Bush and Japanese Prime Minister Taro Aso were among leaders due to arrive on Friday in Peru's capital Lima, with Russian President Dmitry Medvedev landing Saturday for talks set to be dominated by the crisis.
On Thursday, foreign and trade ministers of the Asia-Pacific Economic Cooperation forum issued a tough warning against the dangers of protectionism and called for a quick breakthrough to complete stalled global trade talks.
"We will stand firm against any protectionist sentiment arising out of this crisis," the ministers said in a statement.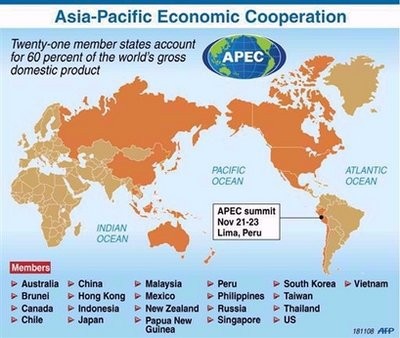 Graphic outlining the 21-member states of the Asia-Pacific Economic Cooperation.
Regarding the so-called Doha round of trade negotiations, they said: "A strong agreement would demonstrate the ability of the international community to work together to bolster a deteriorating global economy."
Australia and Peru took specific action, announcing they were joining a core group of countries seeking to create a free trade area out of the 21 economies of the APEC group.
"There are now seven countries prepared to enter negotiations to try and sign a Trans-Pacific basis for moving forward on trade liberalization," said Australian Trade Minister Simon Crean.
The move came two months after the United States joined the group, previously confined to Singapore, New Zealand, Chile and Brunei.
However an expected demonstration by trade union leaders in Peru's capital was a reminder of limited support in some quarters for the APEC group's liberal, free-trade agenda.
While Bush's trade representative Susan Schwab evoked the 1930s Great Depression to warn against protectionism, uncertainty remains about the stance of the incoming US administration of Barack Obama.
Bush's successor backs free trade but has criticized US deals with some APEC members as harmful to US workers.
Thursday was another day of economic bad news in the United States, with a decision by Congress to delay a multi-billion dollar rescue for the car industry, deepening the crisis Obama will inherit.
And government data showed US unemployment claims soaring to a 16-year high.
In Japan, official data showed Japanese exports had fallen at the fastest pace in almost seven years in October as Asian demand cooled.
China also warned it was facing major unemployment problems, although President Hu Jintao , in Lima, said China's economy remained robust.
"Economic growth has encountered challenges," Hu said in an address to the Peruvian congress, adding however: "We can overcome these difficulties and manage to maintain fast but stable economic growth."
With the United States in a period of lame duck administration, the APEC summit was to showcase the ambitions to regional and global leadership of countries like China and Russia, both of whose leaders are touring Latin America in search of new markets and, especially in China's case, resources.
Bush's visit was his last foreign visit scheduled before he steps down in January.
Free trade talks collapsed in July due to acrimony between rich and developing countries -- particularly the United States and India -- on how far to go in protecting poor farmers.
"We are in a state of emergency," Japanese Foreign Minister Hirofumi Nakasone said. "I sensed a strong determination in the region to work together."
The APEC Summit comes just a week after leaders of 20 major developing and industrialized states met in Washington and announced a series of actions to stabilize the economic system and stimulate growth.
The APEC ministers said they "strongly support" the Group of 20 plan.