SINGAPORE, Nov 15, 2009 (AFP) - Asia-Pacific leaders including the US and Chinese presidents Sunday vowed to remake the world economy after the worst financial crisis in decades, rejecting protectionism and old models of growth.
Asia-Pacific Economic Cooperation (APEC) forum leaders, who together steer more than half the global economy, also said they would persist with hefty stimulus spending "until a durable economic recovery has clearly taken hold".
US President Barack Obama pressed Asian leaders at the weekend summit in Singapore to retool their export-led economies and rebalance world growth, or risk a "drift from crisis to crisis".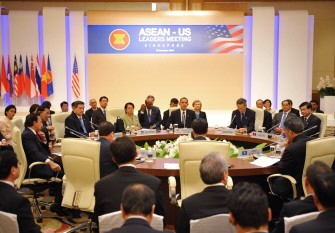 A general view shows leaders including US President Barack Obama (C) attending the ASEAN-US leaders meeting at a hotel in Singapore November 15, 2009, on the sidelines of the Asia Pacific Economic Cooperation Summit. (AFP photo)
But Obama was subject to much criticism in Singapore over his perceived neglect of free trade, with Congress and powerful Democratic barons in the trade union movement clamouring to protect US industry as joblessness soars.
In a concluding declaration, the leaders said: "We firmly reject all forms of protectionism and reaffirm our commitment to keep markets open and refrain from raising new barriers to investment or to trade in goods and services."
"We cannot go back to 'growth as usual'," they added. "We need a new growth paradigm. We need a fresh model of economic integration.
"We will pursue growth which is balanced, inclusive and sustainable, supported by innovation and a knowledge-based economy, to ensure a durable recovery that will create jobs and benefit our people."
The summit's chairman, Singapore Prime Minister Lee Hsien Loong, explained that "sustainable" growth meant working for an "ambitious outcome" at Copenhagen climate talks next month.
But a hastily convened climate discussion in Singapore among key leaders -- including Obama and Chinese President Hu Jintao, representing the world's two biggest emitters of greenhouse gases -- failed to yield any breakthrough.
If thin on specifics, the APEC declaration was a nod to Obama's demand that US consumers must no longer bear the brunt of stoking world demand, and that Asians must start to spend and not hoard their export earnings.
The president noted that voracious US consumerism had for decades fuelled the growth of regional economies. But when crisis struck last year, the "demand for Asian goods plummeted" and the global recession deepened.
"We cannot follow the same policies that led to such imbalanced growth," Obama said in summit remarks released by the White House, highlighting the sky-high deficits run up by the United States during the boom years.
"If we do, we will continue to drift from crisis to crisis, a failed path that has already had devastating consequences for our citizens, our businesses, and our governments," he said.
In one development welcomed by APEC allies, Obama said the United States was interested in exploiting a four-country Pacific trade pact as the nucleus for a massive free-trade zone covering the entire group's 2.6 billion people.
The APEC leaders instructed their officials to start exploratory work on the so-called Free Trade Area of the Asia Pacific, although analysts warn that the giant undertaking is years if not decades from fruition.
More immediately, the heads of government pledged to try to conclude the World Trade Organization's stalled Doha round of negotiations next year.
At the Singapore meetings, President Hu played up China's role in shoring up world growth after the crisis engulfed the United States, and vowed to "vigorously expand" its domestic market.
However, criticism that China keeps an artificial lid on its currency to gain an unfair trade edge flared anew at APEC. Obama is expected to press Hu on the exchange-rate row when the two leaders meet in Beijing next week.