Asia Pacific finance ministers said they would take measures to ensure more balanced growth in the region and avoid "competitive devaluation of currencies" in an APEC statement issued Saturday.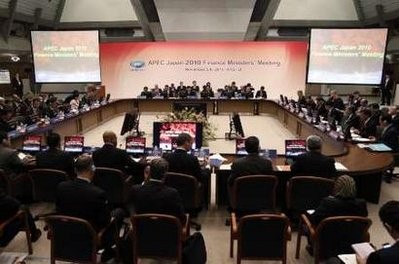 Finance Ministers and delegates gather at the plenary session of the the Asia-Pacific Economic Cooperation (APEC) Finance Ministers meeting in Kyoto, western Japan November 6, 2010.
Finance chiefs from the 21-nation Asia Pacific Economic Cooperation group including the United States, China and Japan met in Kyoto for talks ahead of an APEC summit next week in Yokohama.
In a statement issued Saturday, the group said that "the global economy is recovering from the recent financial crisis, but uncertainty remains".
They warned of the risks posed by capital flows returning in "a significant volume" to emerging economies in the region, leading to higher volatility and asset prices.
The grouping reiterated its commitment to maintaining open markets and "fighting protectionism", and said it would work towards cultivating more balanced growth in the region.
The group said it would "pursue the full range of policies conducive to reducing excessive imbalances and maintaining current account imbalances at sustainable levels".