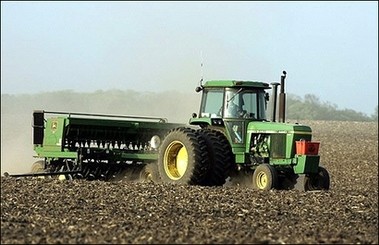 A farmer in Batavia, Illinois plants corn in his fields in May 2007. The Doha round of World Trade Organisation (WTO) talks collapsed because of developed countries' agricultural subsides. (AFP Photo)
APEC trade ministers pledged strong support for global trade talks but revealed they were also examining the possibility of an Asia-Pacific free trade area, in a communique issued Friday.
Trade ministers from 21 APEC economies, collectively representing almost 50 percent of world trade, said there was an urgent need to advance the World Trade Organisation's stalled Doha round of global trade talks.
The ministers, who have been meeting for two days in the northern Australian resort town of Cairns, felt so strongly about the need to push the WTO talks forward that they issued a separate statement on the issue.
"We will demonstrate the necessary political will and flexibility, and call upon other WTO members to do the same," it said.
The statement said an "ambitious and balanced" approach was needed for the talks to succeed.
"This means we need to make cuts in agricultural and industrial tariffs which result in real and substantial improvements in market access, and real and substantial reductions in trade-distorting agricultural subsidies," it said.
But the trade ministers also ordered a report into establishing a Free Trade Area of the Asia-Pacific (FTAAP). US Trade Representative Susan Schwab said before the meeting that FTAAP talks were likely to intensify if Doha failed.
The trade ministers stressed that Doha remained their priority but a draft report on regional economic integration would be prepared for the APEC leaders' summit in Sydney in September.
The Doha round of World Trade Organisation (WTO) talks are stalled over trade tariffs and a row about agricultural subsidies granted to farmers by the United States and the EU.
Critical discussions between the so-called "G4" -- the European Union and the United States on one side and Brazil and India on the other -- aimed at reviving the talks collapsed two weeks ago in Germany.
New Zealand Trade Minister Phil Goff said that collapse was "a real setback" but welcomed news that the heads, or chairs, of key WTO negotiating groups were preparing new texts that will act as a basis for reviving the talks.
Goff said the tone of discussions among the trade minister in Cairns had been "sober".
"We all understand that if we don't get the breakthroughs this time then the round goes into hibernation for some years," he said, echoing comments that Schwab made Thursday.
Australia's trade minister Warren Truss said he hoped APEC's statement would give the WTO talks renewed momentum.
"This meeting makes it clear there's still a determination to succeed and willingness to put in effort to deliver good outcome," he said.
The APEC ministers also endorsed a plan aimed at reducing trade transaction costs throughout the 21-nation bloc by five percent by 2010.
They backed strong intellectual property rights, saying the trade in counterfeit and pirated goods "continues to stifle investment, innovation and economic development".
Other topics included improving investment opportunities and encouraging anti-corruption measures.