SINGAPORE, Nov 11, 2009 (AFP) - Asia-Pacific economies led by the United States and China opened annual talks Wednesday with calls to fight protectionism or risk reversing the region's "fragile" economic rebound.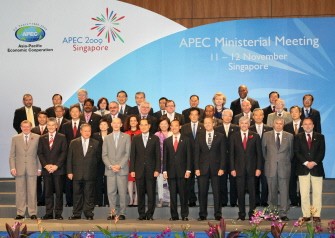 Ministers pose during a photograph for Trade and Foreign Ministers in the Asia-Pacific Economic Cooperation (APEC) in Singapore on November 11, 2009 (AFP photo)
Singapore Foreign Minister George Yeo said "resisting protectionism" was the topmost concern, as foreign and trade ministers from the 21-member Asia-Pacific Economic Cooperation (APEC) group met in advance of a weekend summit here.
"It is a slippery slope and if we are not careful, before we know it, all of us will be in a much more dire situation," he said before convening the meeting with US Secretary of State Hillary Clinton and other Pacific Rim delegates.
Asked if the ministers believed the world's worst economic crisis since the 1930s was at an end, Yeo told reporters: "The consensus is that it is by no means over.
"The upturn that we now have is a respite... the situation is still fragile and we should address the root causes of the problem."
APEC was founded in 1989 with the goals of promoting free trade and investment. Its membership stretches from impoverished Papua New Guinea to the United States via the fast-emerging heavyweight China.
The group is lagging on its ambition of eliminating all barriers to commerce among developed members by next year, and the global crisis has made free trade an even harder sell, most notably in the United States.
World Bank president Robert Zoellick, who is attending APEC's 20th anniversary gathering, told the Foreign Correspondents Association of Singapore that protectionism remains a risk.
"This is still a region that is dependent very much on trade and logistics systems and so when you get higher unemployment, you always have the risk of protectionism as well," he said.
US Chamber of Commerce chief Thomas Donohue urged APEC to fight "trade isolationism" and lead the world in "jump-starting" the Doha round of talks on a new global trade deal.
"Expanding free trade across the Pacific can drive the global economic recovery, create badly needed jobs, and advance economic and social progress in developing and developed countries alike," Donohue said at a separate forum.
"The United States, in particular, needs to get off the sidelines and embrace an ambitious trade agenda," he said.
But US President Barack Obama, who is among the leaders attending the summit along with China's Hu Jintao, will struggle to get more trade pacts past a recalcitrant Congress.
In any case, a study commissioned by the Singapore-based APEC secretariat suggests that the impact of APEC membership has been just as beneficial as a formal free trade agreement in terms of driving down business costs.
"This suggests that APEC members enjoy a significant degree of de facto integration even though APEC's trade liberalisation process is non-binding," said a summary of the study by independent economists.
APEC's members, which also include Australia, Canada, Japan and Russia, account for about 40 percent of the world's population, just over half its gross domestic product and roughly 44 percent of global trade.
APEC finance ministers will meet separately on Thursday and are expected to call for lavish stimulus spending to be kept in place until the global economic recovery is secure.
The World Bank chief warned, however, that the accelerating recovery in Asia could trigger a new round of economic overheating and inflation, and said governments must unwind their stimulus injections with care.
Zoellick said there were signs in some countries of a "substantial" rise in equity and property prices which could lead to asset bubbles -- the very ingredients that triggered the global crisis in the first place.