Nigerian troops were patrolling villages near the northern city of Jos Tuesday after the massacre of more than 500 Christians there that sparked international shock and outrage.
But survivors of the latest wave of inter-ethnic violence, in which women and children were hacked to death or burned alive in their homes, denounced the authorities for having failed to intervene in time.
Relatives of the dead meanwhile attended funerals Monday for the victims of the three-hour orgy of violence in three Christian villages close to the northern city of Jos. Related article: Survivors wail as children, women buried in Nigeria
Witnesses have blamed the massacre on members of the mainly Muslim Fulani ethnic group, and according to media reports Muslims villagers were warned two days before attack via text messages to their phones.
The security forces said they had detained 95 suspects in the violence.
"We have over 500 killed in three villages and the survivors are busy burying their dead," said state information commissioner Gregory Yenlong.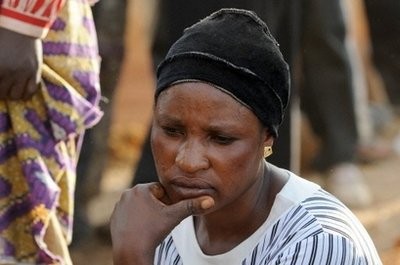 A woman reflects as women and children, killed during religious clashes in central Nigeria, are buried in a mass grave on March 8.
"People were attacked with axes, daggers and cutlasses -- many of them children, the aged and pregnant women."
Around 200 people were being treated in hospital, said the information ministry.
Much of the violence was centred around the village of Dogo Nahawa, where gangs set fire to straw-thatched mud huts as they went on their rampage.
The explosion of violence was just the latest between rival ethnic and religious groups.
In January, 326 people died in clashes in and around Jos, according to police although rights activists put the overall toll at more than 550.
"The attack is yet another jihad and provocation," the Plateau State Christian Elders Consultative Forum (PSCEF) said.
It had taken the army two hours to react from the time a distress call was put through and "the attackers had finished their job and left", they added.
Acting President Goodluck Jonathan has already sacked his chief security advisor.
John Onaiyekan, the archbishop of the capital Abuja, told Vatican Radio that the violence was rooted not in religion but in social, economic and tribal differences.
"It is a classic conflict between pastoralists and farmers, except that all the Fulani are Muslims and all the Berom are Christians," he said.
Fulani are mainly nomadic cattle rearers while Beroms are traditionally farmers.
Locals said Sunday's attacks were the result of a feud which had been first ignited by a theft of cattle and then fuelled by deadly reprisals.
Rights activists also said the slaughter appeared to be revenge for the January attacks, in which mainly Muslims were killed.
The Vatican led a wave of outrage with spokesman Federico Lombardi expressing the Roman Catholic Church's "sadness" at the "horrible acts of violence".
UN chief Ban Ki-moon told reporters he was "deeply concerned", but added: "I appeal to all concerned to exercise maximum restraint.
"Nigeria's political and religious leaders should work together to address the underlying causes and to achieve a permanent solution to the crisis in Jos."
US Secretary of State Hillary Clinton urged "all parties to exercise restraint."
She added: "The Nigerian government should ensure that the perpetrators of acts of violence are brought to justice under the rule of law and that human rights are respected as order is restored."
Survivors said the attackers were able to separate the Fulanis from members of the rival Berom group by chanting 'nagge,' the Fulani word for cattle. Those who failed to respond in the same language were hacked to death.
Witnesses said armed gangs had scared people out of their homes by firing into the air but most of the killings were the result of machete attacks.
"We were caught unawares... and as we tried to escape, the Fulani who were already waiting slaughtered many of us," said Dayop Gyang, of Dogo Nahawa.
Gbong Gwon Jos, a Muslim resident of Dogo Nahawa, told The Nation daily he received advanced warnings of the attacks.
"I got a text message about movement of the people."
Witnesses told Human Rights Watch that some of the attackers were former residents of the villages who had fled previous inter-community conflicts.
"I recognized a few of [the attackers'] voices," one witness told them.
Another witness told the group many of the attackers had their heads wrapped in cloth to make it hard to identify them, and that some had cried "Allahu Akbar" (God is Great).
Amid continuing tension Monday, Christian youths set upon a Muslim journalist covering one of the mass burials near Jos, an AFP reporter said. Police had to pull him to safety and he needed treatment for a broken nose.