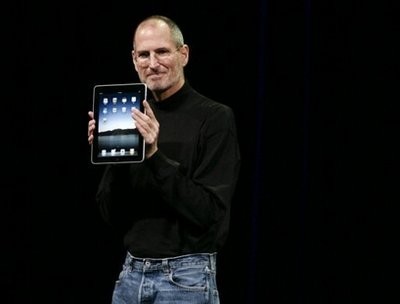 Apple Inc. CEO Steve Jobs announces the new iPad as he speaks during an Apple Special Event at Yerba Buena Center for the Arts in San Francisco, California.AFP photo
SAN FRANCISCO, Jan. 30 (AFP) – As Apple takes a bruising over the moniker of its latest creation some technology analysts are shrugging off the fuss over the name to focus on what's inside the iPad: a speedy new chip.
Critics and fans have been filling the 60-day void between this week's unveiling of what Apple chief executive Steve Jobs hailed as a "revolutionary" device and the time the first models will begin shipping globally.
By Friday, talk of the iPad's technical strengths and weaknesses was drowned out by comic awe rooted in Apple picking a name seemingly fit for a feminine hygiene gadget.
"It's always those kinds of words that are suggestive of feminine menstruation," said Michael Cronan, whose eponymous branding specialty firm in California named Amazon's Kindle electronic reader and the TiVo television digital recorder.
"Automatically, women frame up things that way."
Ironically, while being mocked about the name, Apple was also taking hits for not being the first to stamp it on a product.
Japan's Fujitsu says it launched an iPad years ago, and the name has also been used for small engines, bra inserts, and even adult nappies.
Fujitsu Ltd. said its US subsidiary in 2002 released the "iPad," a sleek handheld multimedia device used by retail store clerks to keep inventory data, scan barcodes and manage business operations.
Fujitsu's trademark application for the "iPad" name with the US Patent and Trademark Office is still pending, said Fujitsu spokesman Masao Sakamoto in Tokyo.
Apple has been embroiled in trademark disputes with other companies before, including Cisco Systems, which launched its "iPhone" before Apple. The two companies settled the dispute in 2007, agreeing to share the name.
Cronan is among those who think the iPad name hubbub is a temporary "tabloidy" tempest and that people will come to accept it the same way they have gotten over referring to digital lock interfaces as "key pads."
"At the end of the day, we will get beyond it," Cronan said. "It is much ado about nothing. Apple gets so much rank in the world that I think people intrinsically try to find a crack in their armor."
The underlying issue in the controversy is that there really wasn't a name for the creation that fits as aptly as iPad, according to the brand expert.
The "i" lead-in is so associated with Apple that it is arguably a trademark in itself.Related article:US holocaust survivors slam iPhone app
And "Pad" is single syllable, easy to pronounce, speaks to what the tablet computer is, and evokes thoughts of Apple's culture-shifting and winning iPod line, Cronan explained.
"It's a natural," Cronan said of Apple's choice. "Let's get on to enjoying what it's going to do."
Apple, as is its style, isn't commenting on iPad criticisms or rampant online sharing of an old Mad TV television comedy skit about a fictitious Apple iPad tampon.
"If Apple didn't have any idea of the repercussions of this, that would be surprising," Cronan said. "I am voting with them on this that they know what they are doing and people will not dwell on it."
Being overlooked is that the iPad has Apple's first microprocessor, an impressive chip that promises to spread to the cores of all of the firm's mobile devices, said analyst Roger Kay of Endpoint Technologies Associates.
"I love the fact that Mad TV had that bit in the can well before Apple thought of using the name," Kay said. "It was fun to see Apple stumble, but the focus is more aptly on the chip."
The chip at the heart of the iPad delivers graphics and processing capabilities that typically require multiple microprocessors, meaning less power and space are used for similar performance.
"That is a real eyebrow raiser," Kay said. "They have gotten a lot of functionality into one chip. The main guys at Intel and AMD are still working on that."
The chip comes from innovations at small microprocessor design firm P.A. Semi, which Apple bought in 2008.
"This is a huge deal," John Gruber of daringfireball.net wrote in a blog post. "I got about 20 blessed minutes of time using the iPad demo units Apple had at the event... and if I had to sum up the device with one word, that word would be 'fast.'"
Kay expects the new chip technology to spread to all of Apple's mobile devices and, perhaps, even its line of Macintosh computers.
"Apple could potentially kiss Intel goodbye," Kay said of the US chip giant on which Apple currently depends. "I don't see any reason why not."