Apple chief executive Steve Jobs on Wednesday revealed the culture-changing company's latest must-have device, a touchscreen tablet computer anointed the "iPad."
"We want to kick off 2010 by introducing a truly magical and revolutionary product," said Jobs, who underwent a liver transplant last year and was making just his second public appearance since September.
The long-awaited iPad has a 9.7-inch (24.6-centimeter) color screen and resembles an oversized iPhone. It is 0.5 inches (1.3 cms) thick, weighs 1.5 pounds (0.7 kgs) and comes with 16, 32, or 64 gigabytes of flash memory. Related article: Apple defies sceptics to shake up S.Korea phone market
The cheapest iPad model, with Wi-Fi connectivity and 16GB of memory, is 499 dollars while the most expensive -- which includes 3G connectivity and 64GB of memory -- costs 829 dollars.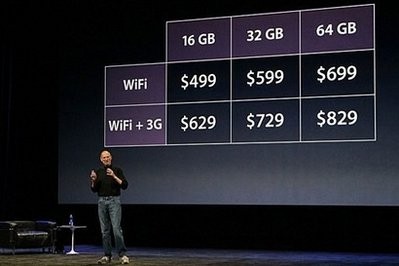 Apple Inc. CEO Steve Jobs discuss the pricing structure for the new Apple iPad during an Apple Special Event at Yerba Buena Center for the Arts in San Francisco, California.
"I think it's a home run," said Gartner analyst Van Baker. "It becomes a viable alternative to a netbook and I get the 140,000 applications in the App Store. It is a pretty compelling value."
Apple said it would start shipping the Wi-Fi version of the iPad, which has a virtual keyboard but can also dock with an external keyboard, in late March.
The 3G version will reach the market in late April. The iPad is "unlocked," meaning buyers can pick preferred telecom service providers. Related article: Apple's cult tech inventions
Dressed in his trademark blue jeans, black turtleneck and sneakers, Jobs walked around the stage and sat on a couch at the Yerba Buena Center for the Arts Theater as he unveiled the hotly anticipated gadget.
He showed off various iPad features which include browsing the Web, checking email, working with spreadsheets and charts, playing videogames, listening to music or watching video.
Jobs, who appeared thin but healthy, said Apple was launching an online "iBookstore" for the iPad and touted its abilities as an electronic reader of books, newspapers and magazines.
"You can have black-and-white, color, video in your books -- whatever the author wants," he said. "We think the iPad is going to make a terrific e-book reader, not just for popular books but for textbooks as well.
"Amazon has done a great job of pioneering this functionality with the Kindle," Jobs said. "We are going to stand on their shoulders."
Jobs said the iPad has support from five big publishers and Apple will "open the floodgates for the rest of the publishers starting this afternoon."
Some technology analysts believe the iPad will render other e-readers obsolete, while a number of publishers are counting on it to sell digital versions of their publications.
The New York Times, Time magazine and National Geographic were among the partners whose content was displayed on the iPad on Wednesday.
"We want to make something that combines the best of print and the best of digital," Times digital operations vice president Martin Nisenholtz said as he showed off an early version of an app for the device. "We are incredibly psyched to pioneer the next stage in digital journalism."
Besides serving as an e-reader, the iPad runs almost all of the applications available through the Apple App Store for the iPod and iPhone.
"If you are thinking about buying a Kindle, you are probably reconsidering that decision. If you are a developer, you have one more reason to develop applications for Apple," said Interpret analyst Michael Gartenberg.
Apple simultaneously released a kit for software developers to tailor applications for the iPad. Related article: The iPad? Also available with wings?
Jobs said he expected the device to carve out a place between the laptop computer and the smartphone.
"Do we have what it takes to establish a third category of products in between a laptop and a smartphone?" he asked. "We think we've done it."
The iPad is "so much more intimate than a laptop and so much more capable than a smartphone," he said.
He said it has about 10 hours of battery life.
Analyst Rob Enderle of Silicon Valley's Enderle Group said the iPad could be "disruptive for a lot of markets."
"I have a hard time believing after seeing this that folks are going to want an e-reader that just does plain text and doesn't do format or color," he said.
Enderle believed iPads could also pose a threat to hand-held gaming systems and eventually videogame consoles.
Gameloft and Electronic Arts showed off slick games they had crafted with just a few weeks of preparation, saying the iPad opens countless "new doors."
"We are going to be able to bring all of the other great EA games for the iPhone from the App Store to this device in no time," said Travis Boatman of EA's mobile studios.
Apple shares gained 0.94 percent to close at 207.88 dollars on Wall Street, but slipped a tad in after-hours electronic trading.