MANILA, Sept 9, 2009 (AFP) - Benigno Aquino vowed Wednesday that as president of the Philippines he would give the public "closure" by recovering stolen wealth controlled by the family of late dictator Ferdinand Marcos.
The announcement appeared to dash hopes of a reconciliation between two of the Philippines' most influential political families.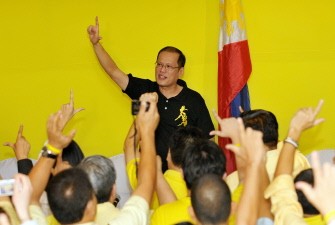 Senator Benigno Noynoy Aquino in Manila on September 9, 2009, after announcing his candidacy for the May 10, 2010 presidential election (AFP photo)
While announcing his bid to run for president in next year's elections, Aquino said he would use "political will" to go after the fabulous wealth of the Marcos family, which some estimates have placed at 10 billion dollars.
Aquino's mother, the democracy icon Corazon "Cory" Aquino, led a public uprising in 1986 that ended Marcos's 20-year rule.
Aquino's father and namesake was gunned down by Marcos forces when he returned home from exile three years earlier.
Twenty-three years have passed since the uprising and "there's still no closure to all of this," Aquino said, in reference to the largely unsuccessful efforts to reclaim the billions of dollars linked to the Marcos family.
"I don't think justice is swift in this country. And as they say, justice delayed is justice denied," he said.
While he did not disclose specific plans, Aquino said "political will is the necessary component to have and to uphold justice for everyone."
"I want to make democracy work not just for the rich and the well-connected, but for everybody," he stressed.
Marcos died in exile in Hawaii in 1989, but his widow, Imelda Marcos, and children were later allowed to return home, where they have continued to remain a political force.
None of the Marcoses has been jailed and the government has so far only managed to recover about 683 million dollars deposited in Swiss accounts.
Imelda Marcos insists her family never plundered the government's coffers, and that their wealth was attained through legitimate business dealings.
On her 80th birthday in July, Marcos complained of being broke due to what she called a relentless campaign by the government to persecute her and her children.