MANILA, June 8, 2010 (AFP) - Benigno Aquino was declared the winner of the Philippine presidential elections on Tuesday, nearly a month after voters went to the polls embracing his pledge to fight corruption and ease deep poverty.
Following a drawn-out vote tallying process, parliament finally released the complete count showing the 50-year-old son of democracy heroes had won the May 10 elections in a landslide.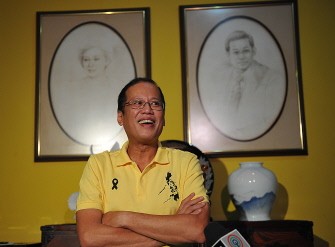 Incoming Philippine president Benigno Aquino smiles next to the portraits of his late parents, former president Corazon Aquino (L) and the senator Benigno Aquino Jnr (R), during a press conference at his residence in Manila on June 7, 2010. AFP photo
Aquino secured just over 15.2 million votes, or nearly 42 percent of the total number cast for the most emphatic victory in modern Philippine political history, according to the results released by legislators.
Former president Joseph Estrada finished well back in second place, more than 4.7 million votes behind.
Parliament is set to officially proclaim Aquino the winner on Wednesday.
He will take over from outgoing President Gloria Arroyo, who will step down on June 30 as one of the nation's most unpopular leaders in modern Philippine politics after nearly a decade in power.
Aquino achieved his historic victory on a promise to tackle the corruption and poverty that has plagued the Southeast Asian nation for decades and he said thrived under Arroyo's rule.
"I want to lead by example. We talk about corruption. I did make a public vow, I will never steal," Aquino told AFP in an interview a day after the elections.
Just as importantly, Aquino cleverly tapped into the enormous public support for his parents, who remain revered for their efforts in ending the dictatorship of Ferdinand Marcos.
His father, Benigno "Ninoy" Aquino, was shot dead in 1983 at Manila airport as he returned from US exile to lead the democracy movement against Marcos.
His mother, Corazon Aquino, took over from her martyred husband and led the "People Power" revolution that eventually toppled Marcos in 1986. She then served as president for six years.
Aquino, an economics graduate and bachelor, had served for the past 12 years as a low-key member of parliament.
His critics sought to portray him as an uncharismatic leader who had accomplished little in his political career, and he admitted to not having presidential ambitions until his mother died of cancer in August last year.
However her death unleashed a massive outpouring of support for the family, a defining moment that he said convinced him to run for the presidency.
Aquino represents the Liberal Party, one of the nation's oldest that was once led by his mother and father.
However the party suffered a major setback in the elections -- with its pick for vice presidency, Mar Roxas, losing after leading in opinion surveys for most of the campaign.
Estrada's running mate, Jejomar Binay, came from behind to win the vice presidential contest and could now potentially be a destabilising force for Aquino.
The Liberal Party will also not have a majority in either house of parliament.
Arroyo's Lakas Kampi CMD will remain a powerful force in parliament, and the outgoing president won a seat in the lower house where she could lead opposition to Aquino's reform agenda.
Aside from fighting corruption, Aquino has said improving the economy and bridging the enormous wealth divide will be among his top priorities in government.
A third of the more than 90 million Filipinos live on less than a dollar a day, and job opportunities are so bad that nine million people work abroad.
Aquino has vowed to boost foreign investment, rein in wasteful government spending, improve the civil service and invest in education.
Aquino has conceded it will take more than the six years that the constitution sets for presidential terms to carry out his social transformation of the Philippines.
"But we are hoping to provide that impetus and momentum to carry over into the next administration," he told AFP in last month's interview.