There is a 50/50 chance the United States will attack Iran and any such strike would risk spreading sectarian violence through the Middle East, Arab League Secretary General Amr Moussa said on Wednesday.
"It's a 50/50 proposition, and we hope that it won't happen. Attacking Iran would be counterproductive," Moussa told Reuters at the World Economic Forum.
U.S. President George W. Bush, in his State of the Union address on Tuesday, spoke of an "escalating danger" from Shi'ite extremists, many taking direction from Iran. Bush called them just as dangerous to the United States as al Qaeda.
Iran and the United States are also at loggerheads over a nuclear program that Washington says is to make bombs. Tehran denies this. The United States favours diplomacy to resolve the standoff, but has not ruled out strikes if that fails.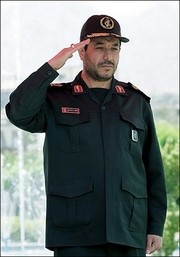 Iran's Defence Minister Mostafa Mohammad Najjar
Asked about Moussa's comments, U.S. State Department spokesman Sean McCormack reiterated that all options remained on the table but he said the United States was working in a "co-operative fashion" with its allies in the Gulf over Iran.
"The president has always said 'You never take any option off the table,' but I think we're being quite transparent in the ways that we're seeking to deal with the various threats posed by Iran, really to the region," McCormack told reporters in Washington.
Moussa did not go into details of how he assessed the likelihood of a U.S. attack.
Asked about Bush's remark on Shi'ite extremists, Moussa said, "I would agree that any kind of extremism, in thoughts or in policies or harsh conservatives, any kind are very dangerous."
But he stopped short of blaming Iran. "It would not be appropriate" to say whether Iran is responsible for destabilising Iraq through support of extremists, he said.
Moussa said the United States needs to move from use of military force towards dialogue, both to resolve the violence in Iraq and to reduce U.S.-Iranian tensions. He added that he favoured proposals for talks with Iran and Syria.
"If there were to be a war, other genies will get out of the bottle. You cannot imagine the impact on the Gulf countries, on the Mediterranean," Moussa said.
SPILLOVER
His concern over a looming U.S.-Iran confrontation was shared by business leaders and political commentators at an opening session on the Middle East at the Forum, an annual gathering of the world's rich and powerful.
Some said it would risk sectarian divisions spilling over to Lebanon, Bahrain and Saudi Arabia. It would also undermine three years of strong regional economic growth seen as important for stabilising the region.
One panellist said a serious danger would be any crash in the crude oil price, engineered by Saudi Arabia, to squeeze Iran's finances as a way to bring the country to its knees.
As a major crude producer, Iran relies heavily on oil revenues. These have soared since crude prices roughly doubled in the past three years, almost reaching $80 a barrel last summer before retreating to the mid $50s currently.
Moussa also said that Bush's plan to build up troops in Iraq and pursue a military solution will not resolve sectarian clashes that are ripping the country apart, he said.
"Iraq is broken," Moussa said.
He proposed a diplomatic solution, advocating a United Nations' Security Council resolution that Iraq should not be partitioned, an agreement on reconciliation and amendment to its constitution.
Moussa also threw his support behind renewal of long-suspended Israeli-Palestinian peace initiative, saying time is running out to make real progress. The United States, European Union, United Nations, and Russia, known as the Quartet, are due to hold talks in February.
"What we need is a process of peace, but a viable process of peace not just photo opportunity," he said.
Concrete issues, such as the borders for a Palestinian state, must be on the table, not merely general guidelines to lay the groundwork for peace, he said.
"I believe very firmly, I believe very strongly that if we don't do something in 2007, it will be very difficult to do something later on," Moussa said.