Arab states will respond clearly to Israel's decision to expand east Jerusalem settlements, a move that came even after they backed new peace talks despite doubts, Qatar's premier said Wednesday.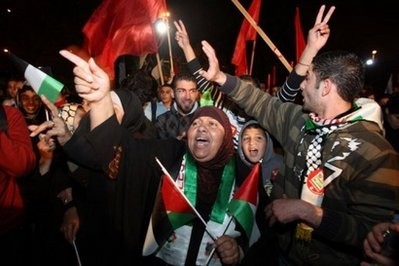 Palestinians, foreign activists and left-wing Israelis demonstrate in east Jerusalem against Israeli settlements and occupation.
"There will a meeting today between the representatives of Arab states and (Arab League chief) Amr Mussa, and there will be a clear decision in response to this Israeli act," Sheikh Hamad bin Jassem al-Thani told reporters.
"We had already had doubts about Israel's seriousness in the peace process, but we had given (the indirect talks) an opportunity through our decision," Sheikh Hamad, who is also foreign minister, said after meeting Mussa in Doha.
US Vice President Joe Biden and UN chief Ban Ki-moon condemned the Israeli decision to build 1,600 new settler homes in predominantly Arab east Jerusalem.
The announcement came two days after the Palestinians grudging agreed to the indirect talks after months of US shuttle diplomacy.
Arab foreign ministers had agreed last week to back one last round of indirect Palestinian-Israeli talks despite their scepticism over Israel's readiness to revive peace efforts.
Palestinian president Mahmud Abbas on Tuesday telephoned Mussa calling for "urgent policy measures" in response to "the escalating Israeli provocations," his office said without elaborating.
"The insult has reached a point that not a single Arab could accept," Mussa told reporters on Wednesday.
"Israel does not care about anybody, neither the mediator, nor the Palestinians," he told reporters.
Israel on Monday had already given the go-ahead for 112 new homes in a West Bank settlement in an exception to a partial moratorium on settlement construction announced in November.
The moratorium does not include east Jerusalem, which Israel seized in the 1967 war and later annexed in a move not recognised by the international community.