WASHINGTON, Apr 23(AFP) – The governor of the US state of Arizona signed a tough new law targeting illegal immigrants, which critics claim enshrines racial profiling and President Barack Obama branded "misguided."
One of the most severe measures on immigration in the statute books ignited fury among immigrant groups, and a fierce legal and political row, just as Democrats consider launching a comprehensive immigration reform bid.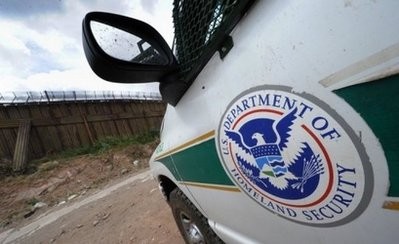 (AFP file) A Border Patrol vehicle keeps watch beside the border fence that divides the US from Mexico in the town of Nogales, Arizona.
The law, signed by Arizona's Republican Governor Jan Brewer, allows police to question and detain anyone in the southwestern border state they believe may be an illegal immigrant, even if they are not suspected of committing another crime.
It would also require anyone in the state suspected of being an illegal immigrant to show some kind of document proving citizenship, like a "green card" permanent residency document or a passport.
"This bill supports law enforcement and safe neighborhoods and strengthens the laws of our state," Brewer said at a signing ceremony. "It protects all of us, every Arizona citizen and everyone here in our state lawfully."
But she denied the law would lead to "racial profiling" by police officers.
"I will not tolerate racial discrimination or racial profiling in Arizona," she said.
Opponents of the law say that if police demand papers from someone they suspect of being an illegal immigrant, and they turn out to be a US citizen, their constitutional rights will have been infringed.
A long legal battle is likely over the law, possibly centering on a clause of the US Constitution which protects a citizen against unreasonably being stopped and searched.
Obama, in a rare presidential intervention on a state matter, earlier described the law as "misguided." He said he ordered top officials to monitor the situation "and examine the civil rights and other implications of this legislation."
At a naturalization ceremony for immigrant US service members at the White House, Obama said the measure threatens to "undermine basic notions of fairness that we cherish as Americans, as well as the trust between police and our communities that is so crucial to keeping us safe."
Bill Richardson, the Hispanic governor of the neighboring state of New Mexico, described the measure on CNN as "a terrible piece of legislation" that nevertheless shows "the frustration of a lot of Arizonans that recognize that we do need comprehensive immigration reform."
House Speaker Nancy Pelosi said the law was "irresponsible," but was "a reminder of the need for urgent, bipartisan action at the federal level to enact comprehensive immigration reform."
Immigrant lobby groups, pressuring Obama and his Democrats to move on reform despite testy election-year politics, said the new law was a travesty.
"This legislation is not just about immigrants," said Frank Sharry, executive director of America's Voice.
"It's now open season on all Latinos and it's an absolute travesty that Arizona lawmakers would go to this extreme in the year 2010.
"It might as well be Mississippi in the 1960s," he said, referring to the civil rights struggle.
Ali Noorani, executive director of the National Immigration Forum, said Brewer's move "shows a stunning lack of judgment and is an insult to our nation's constitution."
"This law only appeals to people's fear and their understandable anxiety about the economy, and does nothing to serve Arizona, much less our nation."
Immigration reform appears to be back on the agenda for Democrats, as they approach mid-term elections in November which could loosen their control of Congress.
Obama has promised advocates who want a path to legal status for 11 million illegal migrants that he will take up the issue, but only if he wins Republican support.
But the volatile politics of an election year and a 9.7 percent unemployment rate have many observers doubting whether political momentum can be built on such a volatile issue.
Some observers believe Democratic leaders see the potential of squeezing Republicans on immigration reform ahead of the election, since the issue is important to Hispanic Americans, a growing and powerful voting demographic.
Should the White House win passage of immigration reform, they would likely get a boost among Hispanics in politically significant states like Arizona, Nevada and New Mexico.
Should they fail, and Republicans be blamed for blocking the move, the opposition party might be damaged in those same states.
Attempts to pass immigration reform failed in Congress in 2006 and 2007 in a bitter political environment similar to the current climate on Capitol Hill.