Outraged relatives of the 57 people killed in the Philippines' worst political massacre said Wednesday they feared the government was protecting a powerful Muslim clan accused of the murders.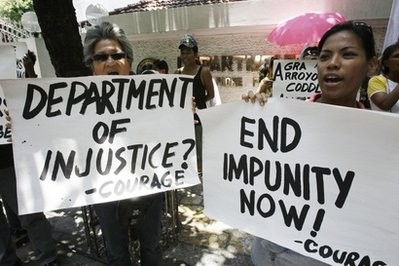 Protesters display their placards as they shout slogans during a rally at the Department of Justice Tuesday, April 20, 2010 in Manila, Philippines.
The relatives and their lawyers hit out at President Gloria Arroyo's team after it dropped murder charges against two clan members and allowed the main suspect to protest his innocence in a rare jailhouse press conference.
"We went back into our depression and all the families were enraged," Myrna Reblando, widow of one of the victims, said when asked about the decision to drop the charges against Zaldy and Akmad Ampatuan.
Justice Secretary Alberto Agra said on the weekend he had decided to drop the charges against the pair -- barely two months after charging them -- but Reblando and others said they were convinced the decision came from higher up.
"Something like this couldn't happen without her (Arroyo) knowing about it," Reblando told reporters outside a Manila court that was hearing initial proceedings against 15 policemen also charged over the slaughter.
The Ampatuans are a powerful clan that ruled the southern province of Maguindanao for a decade thanks in part to a close alliance with Arroyo and her ruling coalition, which allowed them to run their own private army.
However she was forced to publicly end the alliance after top clan members were accused of orchestrating the massacre of 57 people on November 23 last year in Maguindanao to allegedly eliminate the challenge of a political rival.
Andal Ampatuan Jnr, then a local mayor, is alleged to have led 100 gunmen in abducting a convoy of the rivals' relatives, plus accompanying journalists and lawyers.
His father, then the governor of Maguindanao and a member of Arroyo's coalition party, is among 194 other people also charged with murder.
Lawyer Harry Roque, representing some of the victims' families, told reporters Wednesday he had applied for court proceedings to be postponed until July, when Arroyo will have stepped down a new justice secretary appointed.
"Does this mean we don't believe we can get justice under Arroyo? The answer is yes," Roque said.
Roque and government prosecutors also questioned why Ampatuan Jnr was allowed to hold a press conference on Tuesday in a Manila prison where he was being detained.
"I'm surprised, why in a high-security facility, one of the accused was able to conduct a full-blown press conference," Roque said.
Government prosecutor Richard Fadullon said he had also filed an application to the court asking that the jail warden be made to explain why the press conference was allowed.
Arroyo's spokesman, Gary Olivar, insisted Wednesday that the president was not giving the Ampatuans any favours.
"It should be clear to everyone of good faith that the president shares the desire of the victims for quick and comprehensive justice in this matter," Olivar told AFP.
He also denied that Arroyo was involved in the decision to allow Ampatuan Jnr to hold a press conference.
"Jailhouse interviews with suspects... I don't think that rises to the level of president," he said.