A tense stand-off between Ivory Coast's two presidents led to heavy fighting in Abidjan, as the International Red Cross announced that at least 800 people had been massacred in the west earlier in the week.
Under immense foreign pressure and besieged by internationally recognised president Alassane Ouattara's forces in the economic capital, Gbagbo held on as his forces repulsed an attack on his home and presidency on Friday.
The United States, France, United Nations chief Ban Ki-moon, the African Union and the European Union's top diplomat Catherine Ashton, all urged Gbagbo to step down immediately, citing concerns over citizens caught up in the country's bloody post-election conflict.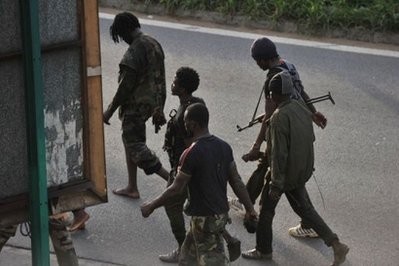 Millitiamen loyal to Alassane Ouattara walk along a street in Abidjan
Troops loyal to Ouattara, who has been unable to take office since a November election, captured towns throughout the country in an offensive launched Monday, with a massive death toll reported in Duekoue in the west.
"At least 800 people were killed in Duekoue on Tuesday," an ICRC spokeswoman in Geneva, Dorothea Krimitsas, told AFP, adding that information on the death toll had been gathered by Red Cross representatives who visited the area on Thursday and Friday.
"There is no doubt that something on a large scale took place in this city, on which the ICRC is continuing to gather information," she said, adding that Red Cross representatives had "themselves seen a very large number of bodies".
As Ouattara's troops arrived in Abidjan, fierce battles rocked the city Thursday night and most of Friday, though shooting and explosions around the presidential palace and Gbagbo's private residence were abating by late afternoon, with only sporadic gunfire heard.
Armoured UN vehicles patrolled the business district during the afternoon and a UN helicopter circled the area, AFP journalists saw.
Gbagbo's camp played down rumours he was preparing to flee, insisting they had beaten back an Ouattara offensive.
"The offensive on the presidential palace was pushed back, the offensive on the radio station was pushed back," spokesman Ahoua Don Mello said, adding that an offensive against RTI state television had also failed.
"Finally, an attempt to seize the residence was a total failure," Don Mello said, referring to Gbagbo's home in the northern suburb of Cocody.
"He is at home, obviously, with his wife and the whole family. He is better accepted in Ivory Coast than elsewhere."
Ouattara's camp said it was convinced Gbago's fate had already been sealed.
"I don't think Laurent Gbagbo is capable of resisting for much longer with all the defections in his ranks... he is condemned to be removed," Ouattara's spokeswoman Anna Ouloto told AFP.
"Laurent Gbagbo must step down to avoid a bloodbath. Hopefully he will or we will go and fetch him," Ouattara's prime minister Guillaume Soro told AFP.
Gbagbo's army chief of staff, General Philippe Mangou, fled with his family on Wednesday to take refuge in the South African ambassador's residence.
The 10,000-strong UN mission in Ivory Coast (UNOCI) said Friday it was ready to facilitate Gbagbo's departure if he wished.
As fighting intensified around the presidential palace, a Swedish United Nations employee was shot and killed, "probably by a stray bullet", the Swedish foreign ministry said.
A teacher of French nationality was also shot dead in the capital Yamoussoukro, officials in Paris told AFP on Friday, without indicating whether the death was linked to the political conflict.
Several hundred people have been killed in the aftermath of the presidential election in November and the UN estimates a million people have fled Abidjan in recent weeks fearing a bloodbath.
As Abidjan was hit by violence and widespread looting, between 800 and 900 citizens of France and other countries sought shelter at the Port-Bouet camp of the French Licorne forces, spokesman Frederic Daguillon told AFP.
"There are about 400 French but also Lebanese, Italians and Spanish," he said adding that an evacuation was not planned and they were merely providing shelter.
Former colonial master France, which has 12,200 of its citizens in Ivory Coast, urged Gbagbo to quit power.
"France calls on Laurent Gbagbo, according to UN Security Council resolution 1975, to withdraw immediately, to cease from violence and give up power peacefully to President Alassane Ouattara," President Nicolas Sarkozy said in a statement.
The United States also urged Gbagbo to "step down immediately" and called on UN and French forces to take all possible steps to protect civilians.
UN chief Ban Ki-moon echoed the call saying "there has been two much bloodshed" already in the conflict.
"Alassane Ouattara is the democratically elected President of Côte d?Ivoire," the EU's top diplomat Catherine Ashton said in a statement.
"I urge Laurent Gbagbo to step down immediately and hand himself over to the legal authorities," she said.
Ashton called "on all sides to show restraint and to protect the civilian population.
"The UN mission in Côte d?Ivoire should be allowed to fully implement its mandate to protect the civilian population."
She also warned that those "responsible for human rights violations will be held responsible before international justice."
AU Commission Chairman Jean Ping urged Gbagbo to immediately hand over power to Ouattara, saying Gbagbo's refusal to accept international initiatives aimed at ending the crisis "have not made it possible to speedily complete the implementation of a peaceful solution".
Britain's Foreign Office also said it was "gravely concerned by the violence that continues to occur in Abidjan" and called "on all sides to exercise restraint".