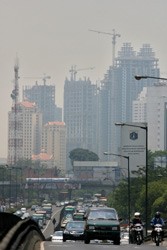 Jakarta commuters make their way on a flyover as an under-construction block is seen engulfed by haze from forest fires , October 13, 2006.
ASEAN secretary-general Ong Keng Yong on Friday urged Southeast Asia to demonstrate the willpower to solve a recurring haze problem which affects the region's efforts to attract investors.
"It is a question of enforcing the measures that have already been agreed to," said Ong.
"What we are looking for is really that everybody is committed to seizing this opportunity and deal with this problem," he said.
His comments came as environment ministers from Brunei, Indonesia, Malaysia, Singapore and Thailand met Friday in the Indonesian city of Pekanbaru to thrash out ways of combating annual blazes that create a choking pall of smoke over the region.
"We are not reinventing the wheel in this meeting... we are just going there to reassure each other that we should cooperate and it is in our mutual interest, so we see how it goes," he said.
While a strong statement from the Pekanbaru meeting will be welcomed, Ong stressed it was more important that "a more definitive solution" was agreed to during the meeting.
"Of course, we hope that there will be an unequivocal statement... but a strong statement by itself is not enough," said Ong.
"A strong statement must be followed by assertive, definite, practical action."
Ong said the 10-member Association of Southeast Asian Nations is in the middle of "a big campaign" to invite European and US investors to a investor forum in Indonesia next week.
"These people are already reluctant to come... and then you have the smoke coming out," he said at a book launch by his predecessor, Rodolfo Severino.
The Indonesian government, which has been criticised by its neighbours for failing to prevent the illegal land-clearing fires, said this week it would ratify a regional treaty aimed at controlling the haze.
Already a signatory to the 2002 treaty, it gave no indication of when it planned to carry out the ratification which could still take months.
Indonesian President Susilo Bambang Yudhoyono on Thursday apologized to Singapore and Malaysia over the haze.
Ong said the haze agreement, if ratified, would be an effective way to put out the forest fires as it allows other ASEAN member countries like Malaysia and Thailand to swiftly mobilise their fire-fighting bridgades.
The haze that blanketed the region's skies in 1997 is estimated to have cost 4.5 billion US dollars.
Source: AFP