The Secretary-General of ASEAN, Dr Surin Pitsuwan, will undertake a road tour on 12 January 2010 through three member-countries, aiming to boost further the region's physical connectivity.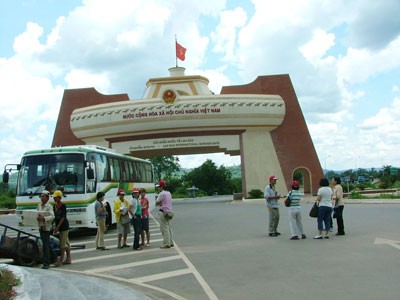 Lao Bao Border Gate
The Familiarization Trip on ASEAN Connectivity will take them eastward along Route R9 traversing Thailand, Laos and Vietnam. The trip will be followed by a series of ASEAN meetings including the 3rd Meeting of the ASEAN Political-Security Community (APSC) Council, a Special Meeting of the ASEAN Coordinating Council (ACC) and the ASEAN Foreign Ministers Retreat in Da Nang, Viet Nam on 13-14 January 2010.
The trip will see the high-level delegation gather in Bangkok and then fly to Savannakhet in Laos from where they will make their way in a convoy of cars to the Lao Bao Border Gate.
On the Vietnam side of this border, they will be welcomed by the leaders of Vietnamese province of Quang Tri and officials of the Vietnamese Ministry of Foreign Affairs. They will then depart for Hue, arriving at the front gate of Hue Imperial Palace where the delegation will be received by Mr. Pham Gia Khiem, Deputy Prime Minister and Minister of Foreign Affairs of Vietnam, and Mr. Nguyen Ngoc Thien, Chairman of the People's Committee of Thua Thien Hue Province.
After a luncheon at the Royal Theatre of the Palace, during which the Royal Court Music will be performed, the delegation will continue with the last leg of their road trip, to the city of Da Nang, their final destination.
This series of meetings is the first to take place in Vietnam as the current chair of ASEAN. The meetings are expected to discuss ASEAN Connectivity, among other issues. The ASEAN Leaders, during the ASEAN Summit in Thailand in October 2009, had discussed the concept of ASEAN Connectivity and recognised that enhancing intra-regional connectivity would promote ASEAN centrality in the regional architecture, facilitate the building of an ASEAN Community and serve as a foundation for a more enhanced East Asian connectivity. Central to the promotion of ASEAN Connectivity are the development of physical infrastructure and multimodal transportation.