NHA TRANG, Vietnam, April 8, 2010 (AFP) - Economic growth across the 10-member Southeast Asian bloc could reach 5.5 percent this year, the IMF said Thursday, outpacing the global average.
"We are expecting world growth to be around four percent this year. In the ASEAN region, we are expecting growth at 5.5 percent this year," IMF deputy managing director Naoyuki Shinohara said on the sidelines of ministerial talks.
The Association of Southeast Asian Nations collectively grew by just 1.3 percent in 2009 as it was buffeted by the global financial crisis.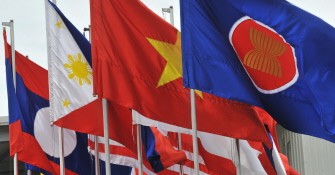 Flags of Southeast Asian Nations (ASEAN) are seen flying at Hanoi's Noi Bai international airport where ASEAN leaders keep arriving to attend the 16th ASEAN Summit on April 8, 2010. AFP photo
The region groups Brunei, Cambodia, Indonesia, Laos, Malaysia, Myanmar, the Philippines, Singapore, Thailand and Vietnam.
China, a key dialogue partner, is attending the finance ministers' talks being held in the central city of Nha Trang while the group's leaders are meeting in Hanoi from Thursday for a two-day summit.
But Shinohara said the ongoing controversy over China's pegging of its currency had not been raised at the talks.
The United States is continuing to press for an appreciation of the Chinese yuan to stem the tide of cheap imports to its shores.