A symposium on the implementation of the ASEAN roadmap for logistics services integration marked a start to the 42nd ASEAN Economic Ministers (AEM) that opened in Da Nang City on August 22.
The week-long meeting was attended by 10 ASEAN economic ministers and eight partners, including China, the Republic of Korea, Japan, Australia, New Zealand, India, Russia and the European Union (EU).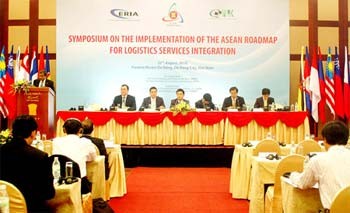 A view of the symposium on the ASEAN roadmap for logistics services integration in Da Nang City on August 22 (Photo: SGGP) 
The global logistics services revenue is estimated at US$1.2 trillion per year, accounting for about 16 percent of the world's GDP, according to reports released at the meeting.
  
If transport cost is cut by 10 percent, the global trade may increase by 20 percent; and if the cost is cut in half then the GDP of each country may grow by 0.5 percent.
ASEAN economies have achieved high growths in general, with their export markets expanding at a rate of 5-7 percent per year and their total trade amounting to nearly UD$1.5 trillion per year.
The meeting agreed that if ASEAN countries are to boost their trade, the cost of logistics activities must be reduced.
After two years of implementation of the logistics integration, most of ASEAN countries have allowed their businesses to freely invest in goods transportation.
ASEAN has entered into a multilateral agreement on a total liberalization of air cargo transport, creating a foundation for setting up a united ASEAN market for air cargo transport in 2015.
ASEAN countries have also developed their customs development strategy and the ASEAN one-stop mechanism to harmonize and streamline the rules of trade customs between country members.
Brunei, Indonesia, Malaysia, the Philippines, Singapore, and Thailand will complete such a mechanism this year. Vietnam plans to adopt this mechanism by 2012, while Laos, Cambodia, and Myanmar will apply it as soon as they can.
However, there is now a development gap in logistics among ASEAN countries and each country needs to narrow the gap by effective approaches included in its logistics integration strategy.
In Vietnam, logistics services now represent 15-20 percent, or about US$12 billion, of its annual GDP. The country has more than 800 logistics businesses but most of them are small and medium-sized enterprises with limited capacity, expertise, and competitiveness.
Therefore, with its role of coordination of the ASEAN logistics integration progress, Vietnam wishes to boost logistics development in the region, thereby improving its own logistics services capability.