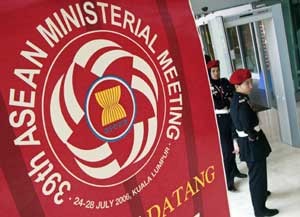 ASEAN and the US will sign framework for the "ASEAN-US Enhanced Partnership at the 36th ASEAN Ministrial Meeting in Kuala Lumpur, Malaysia, from July 24 to 29, 2006 (AFP Photo)
Association of Southeast Asian Nations (ASEAN) and US officials will Thursday sign the framework for the "ASEAN-US Enhanced Partnership", which they had agreed to work towards last November
.
"I think it (the action plan) is good. The US is an important player in the world. It is the sole superpower," Malaysian Foreign Minister Syed Hamid Albar told reporters in Kuala Lumpur.
Malaysia is the current chair of the 10-member bloc.
"It is a broad framework. Among the areas it hopes to promote are economic and technical cooperation, to combat terrorism and the fight against HIV/AIDS," a Malaysian foreign ministry official added on condition of anonymity.
Under the plan, both sides will work towards an ASEAN-US Trade and Investment Framework Agreement that will serve as a mechanism to ease trade and investment flows.
ASEAN groups Brunei, Cambodia, Indonesia, Laos, Malaysia, Myanmar, the Philippines, Singapore, Thailand and Viet Nam. It offers a combined market of more than 500 million people.
Officials have said the plan could lay the groundwork for a US-ASEAN free trade pact, pointing out that ASEAN is already in talks for a region-wide free trade agreement with China and Japan to be completed by 2010.
"This ASEAN-US plan of action is predicated on the position that the United States would like to do more to open up its trade with ASEAN countries," ASEAN Secretary-General Ong Keng Yong told AFP at the weekend.
ASEAN is also "keen to do more because the potential of doing trade with the USA is still so great and we have not yet fully gotten the best out of it," he said.
Source: AFP